cervical cap
Also found in:
Dictionary
,
Thesaurus
,
Legal
,
Financial
,
Encyclopedia
,
Wikipedia
.
cap
[

kap

]

1. a covering.

2. a maximum budgetary limit.

cervical cap

a contraceptive device similar to the

diaphragm

but much smaller, consisting of a cup that fits directly over the cervix. It is only 60 per cent effective for women who have already given birth.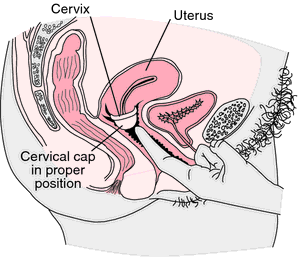 cradle cap
an oily yellowish crust that sometimes appears on the scalp of an infant, caused by excessive secretion by the sebaceous glands in the scalp. Treatment of mild cases consists of daily shampoo with mild soap. It can be loosened with an application of mineral oil or baby oil prior to shampooing. Called also
milk crust
and
crusta lactea
.
Miller-Keane Encyclopedia and Dictionary of Medicine, Nursing, and Allied Health, Seventh Edition. © 2003 by Saunders, an imprint of Elsevier, Inc. All rights reserved.
cer·vi·cal cap
a contraceptive diaphragm that fits over the cervix uteri.
Farlex Partner Medical Dictionary © Farlex 2012
cervical cap
n.
A small, rubber, cup-shaped contraceptive device that fits over the uterine cervix to prevent the entry of sperm.
The American Heritage® Medical Dictionary Copyright © 2007, 2004 by Houghton Mifflin Company. Published by Houghton Mifflin Company. All rights reserved.
A barrier-type contraceptive consisting of a semirigid plastic cap that fits tightly over the uterine cervix, holding spermicide against it; CCs are functionally similar to diaphragms, but can be left in place for longer periods; CCs must be fitted, and they may not work on all women, due to cystocele or short anterior vaginal wall

Segen's Medical Dictionary. © 2012 Farlex, Inc. All rights reserved.
cer·vi·cal cap
(

sĕrvi-kăl kap

)

Contraceptive diaphragm that fits over the cervix uteri.

Medical Dictionary for the Health Professions and Nursing © Farlex 2012
cervical cap
See CAP CONTRACEPTIVE.

Collins Dictionary of Medicine © Robert M. Youngson 2004, 2005