breech delivery
Also found in:
Dictionary
,
Thesaurus
,
Legal
,
Financial
,
Encyclopedia
.
delivery
[

de-liv´er-e

]

1. the bringing of something to a place.

2.

expulsion or extraction of the child and fetal membranes at birth; see also

labor

. Called also

accouchement.

breech delivery

delivery of a fetus in breech presentation; see also

breech extraction

.

controlled drug delivery

a system used in dentistry that delivers an

antimicrobial agent

to the target site and maintains the desired concentration for enough time without development of resistant bacteria.

forceps delivery

extraction of a fetus from the maternal passages by application of forceps to the child's head. See illustration.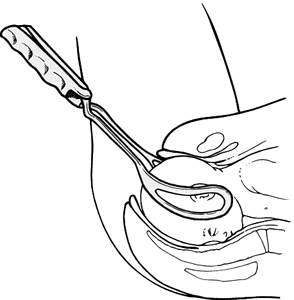 breech de·liv·er·y
extraction or expulsion of a fetus that presents by the buttocks or feet.
breech delivery
n.
Delivery of a fetus with the buttocks or feet appearing first. Also called breech birth.
breech delivery
Obstetrics Extraction or expulsion of the fetus feet or buttocks first
breech delivery
Buttock-first birth.