brachial
(redirected from brachial plexus neuritis)
Also found in:
Dictionary
,
Encyclopedia
.
brachial
[

bra´ke-al

]

brachial plexus

a nerve plexus partly in the neck and partly in the axilla, originating from the ventral branches of the last four cervical spinal nerves and most of the ventral branch of the first thoracic spinal nerves. It has a

supraclavicular part

and an

infraclavicular part

that give off many of the principal nerves of the shoulder and upper limb.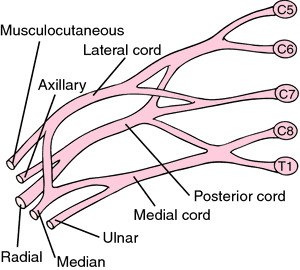 Miller-Keane Encyclopedia and Dictionary of Medicine, Nursing, and Allied Health, Seventh Edition. © 2003 by Saunders, an imprint of Elsevier, Inc. All rights reserved.
brach·i·al
(

brā'kē-ăl

),

Relating to the arm.

Farlex Partner Medical Dictionary © Farlex 2012
brachial
(brā′kē-əl, brăk′ē-)
adj.
Of, relating to, or resembling the arm or a similar or homologous part, such as the foreleg, wing, or other forelimb of a vertebrate:
the brachial artery.
The American Heritage® Medical Dictionary Copyright © 2007, 2004 by Houghton Mifflin Company. Published by Houghton Mifflin Company. All rights reserved.
brachial
adjective Referring or belonging to an arm.

Segen's Medical Dictionary. © 2012 Farlex, Inc. All rights reserved.
brach·i·al
(

brā'kē-ăl

)

Relating to the arm.

Medical Dictionary for the Health Professions and Nursing © Farlex 2012
brachial
Pertaining to the arm.

Collins Dictionary of Medicine © Robert M. Youngson 2004, 2005
brachial
of or relating to the arm or to an armlike structure.

Collins Dictionary of Biology, 3rd ed. © W. G. Hale, V. A. Saunders, J. P. Margham 2005