rongeur
(redirected from bone rongeur)
Also found in:
Dictionary
.
rongeur
[

ron-zher´

] (Fr.)

a forcepslike instrument for cutting tough tissue, particularly bone.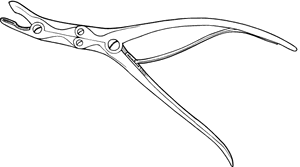 Miller-Keane Encyclopedia and Dictionary of Medicine, Nursing, and Allied Health, Seventh Edition. © 2003 by Saunders, an imprint of Elsevier, Inc. All rights reserved.
ron·geur
(

rawn-zhĕr'

),

A strong, biting forceps for nipping away bone.

[Fr. ronger, to gnaw]

Farlex Partner Medical Dictionary © Farlex 2012
rongeur
Surgery A forceps-like instrument used to cut indurated tissue–eg, bone. See Intervertebral rongeur.

McGraw-Hill Concise Dictionary of Modern Medicine. © 2002 by The McGraw-Hill Companies, Inc.
ron·geur
(

rōn[h]-zhur'

)

A strong biting forceps for nipping away bone.

[Fr. ronger, to gnaw]

Medical Dictionary for the Health Professions and Nursing © Farlex 2012
ron·geur
(

rōn[h]-zhur'

)

A strong, biting forceps for nipping away bone.

[Fr. ronger, to gnaw]

Medical Dictionary for the Dental Professions © Farlex 2012