blepharoptosis
Also found in:
Dictionary
,
Thesaurus
,
Encyclopedia
.
blepharoptosis
[

blef″ah-rop-to´sis

]

ptosis

(def. 2).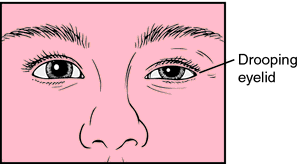 bleph·a·rop·to·sis
, blepharoptosia (

blef'ă-rop'tō-sis, -rop-tō'sē-ă

),

Drooping of the superior eyelid.

[blepharo- + G. ptōsis, a falling]
blepharoptosis
Drooping of an upper eyelid.
 
Aetiology
Ageing, diabetes, stroke, Horner's syndrome, muscle weakness or damage, myasthenia gravis, brain tumours or cancer, neuropathy.
bleph·a·rop·to·sis
(

blef'ăr-op-tōsis

)

Drooping of the upper eyelid.

Synonym(s):

ptosis

(2) .

[G. blepharon, eyelid + G. ptōsis, a falling]
ptosis 
Drooping of the upper eyelid causing a narrowing of the palpebral aperture. It is often divided into two main types: congenital and acquired. The congenital type present at birth is usually the result of interference with the superior division of the oculomotor nerve, or associated with the blepharophimosis syndrome. The acquired type may result from any affection of the nerve supply of the upper eyelid musculature, from a disease of the muscles themselves (e.g. myasthenia gravis), or from mechanical interference in elevating the eyelid due to the weight of a tumour, trauma or chronic tissue hypoxia (e.g. diabetes). The correction is usually surgical. Sometimes a
ptosis crutch
, which is attached to the spectacles and elevates the eyelid, may be useful. There are also special contact lenses designed to support the upper eyelid (Fig. P22).
Syn.
blepharoptosis.
See
hereditary spinal ataxia
;
epicanthus inversus
;
jaw-winking phenomenon
;
tuck procedure
;
pseudoptosis
;
Cogan's lid twitch sign
;
orthopaedic spectacles
;
Horner's syndrome
.
acquired aponeurotic ptosis
Ptosis caused by a partial disinsertion, dehiscence or weakness of the aponeurosis of the levator palpebrae superioris muscle. It usually occurs in old age and is bilateral, but disinsertion can result from trauma to one eye (e.g. following eye surgery). Occasionally an abnormal attachment to the superior border of the tarsal plate is present as well. This is the most common form of acquired ptosis. The typical treatment is by resection of the levator palpebrae muscle.
ptosis adiposa
See
dermatochalasis
.
apparent ptosis
See
pseudoptosis
.
bleph·a·rop·to·sis
(

blef'ăr-op-tōsis

)

Drooping of the upper eyelid.

Synonym(s):

ptosis

(2) .

[G. blepharon, eyelid + G. ptōsis, a falling]