bimanual palpation
Also found in:
Dictionary
,
Thesaurus
,
Encyclopedia
.
palpation
[

pal-pa´shun

]

the act of feeling with the hand; the application of the fingers with light pressure to the surface of the body for the purpose of determining the condition of the parts beneath in physical diagnosis.

bimanual palpation

palpation with both hands in the physical examination of a patient.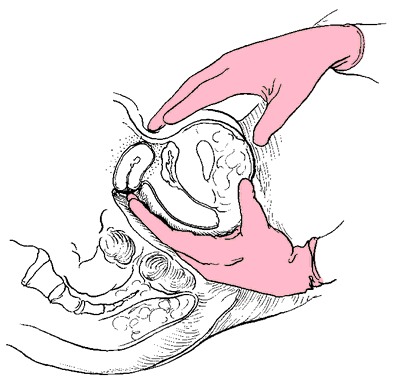 Miller-Keane Encyclopedia and Dictionary of Medicine, Nursing, and Allied Health, Seventh Edition. © 2003 by Saunders, an imprint of Elsevier, Inc. All rights reserved.
bi·man·u·al pal·pa·tion
use of both hands to feel organs or masses, especially in the abdomen or pelvis.
Farlex Partner Medical Dictionary © Farlex 2012
bi·man·u·al pal·pa·tion
(

bī-manyū-ăl pal-pāshŭn

)

Use of both hands to feel organs or masses, especially in the abdomen or pelvis.

Medical Dictionary for the Health Professions and Nursing © Farlex 2012
bi·man·u·al pal·pa·tion
(

bī-manyū-ăl pal-pāshŭn

)

Use of both hands to feel or examine dental structures.

Medical Dictionary for the Dental Professions © Farlex 2012