asterixis
Also found in:
Wikipedia
.
asterixis
[

as″ter-ik´sis

]

a motor disturbance marked by intermittent lapses of an assumed posture as a result of intermittency of sustained contraction of groups of muscles; called liver flap because of its occurrence in coma associated with liver disease, but also observed in other conditions.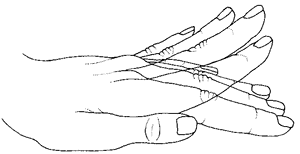 Miller-Keane Encyclopedia and Dictionary of Medicine, Nursing, and Allied Health, Seventh Edition. © 2003 by Saunders, an imprint of Elsevier, Inc. All rights reserved.
as·ter·ix·is
(

as'ter-ik'sis

),

Involuntary jerking movements, especially in the hands, best elicited by having the patient extend the upper limb, dorsiflex the wrists, and spread the fingers; results from lapses of sustained posture; seen primarily with various metabolic and toxic encephalopathies, especially hepatic encephalopathy.

[G. a- priv. + stērixis, fixed position]

Farlex Partner Medical Dictionary © Farlex 2012
Hepatology An involuntary jerking tremor of wide amplitude elicited upon dorsiflexion of the pronated wrist and spreading of extended fingers; in full-blown flapping tremors, there is abrupt flexion of the fingers at the metacarpophalangeal joint and flexion of the wrist, occurring asynchronously with each other every few seconds, due to exaggerated reflexes; bilateral flapping tremor is quasi-pathognomonic for metabolic, often alcohol-related, hepatic encephalopathy seen in end-stage—post-fibrotic—cirrhosis due to increased blood ammonia
Neonatology Coarse bilateral tremors, accompanied by limb rigidity, hyperreflexia, resistance to flexion and extension, seen in infants born to heroin-addicted mothers who undergo 'withdrawal' at birth

Segen's Medical Dictionary. © 2012 Farlex, Inc. All rights reserved.
asterixis
Flapping tremor Neurology An exaggerated muscle tremor characterized by involuntary jerking of the hand in flexion and extension, classically seen in advanced liver disease and hepatic encephalopathy.

McGraw-Hill Concise Dictionary of Modern Medicine. © 2002 by The McGraw-Hill Companies, Inc.
as·ter·ix·is
(

as-tĕr-ik'sis

)

Involuntary jerking movements, especially in the hands, due to arrhythmic lapses of sustained posture; seen primarily with metabolic and toxic encephalopathies, especially hepatic encephalopathy.

Synonym(s):

flapping tremor

.

[G. a- priv. + stērixis, fixed position]

Medical Dictionary for the Health Professions and Nursing © Farlex 2012
asterixis
A recurrent flapping tremor of the arms, like the action of a bird's wings. Asterixis is characteristic of the brain disorder associated with liver failure—hepatic encephalopathy.

Collins Dictionary of Medicine © Robert M. Youngson 2004, 2005