artificial crown
Also found in:
Dictionary
,
Thesaurus
,
Legal
,
Financial
,
Encyclopedia
.
crown
[

krown

]

1. the topmost part of an organ or structure, e.g., the top of the head.

anatomical crown

the upper, enamel-covered part of a tooth.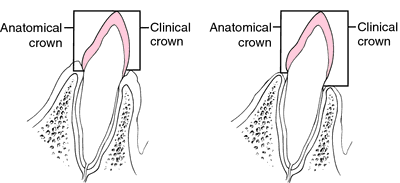 artificial crown a metal, porcelain, or plastic reproduction of a crown affixed to the remaining natural structure of a tooth.
clinical crown that portion of a tooth visible above the gingiva.
Miller-Keane Encyclopedia and Dictionary of Medicine, Nursing, and Allied Health, Seventh Edition. © 2003 by Saunders, an imprint of Elsevier, Inc. All rights reserved.
ar·ti·fi·cial crown
a fixed restoration of the major part of the entire coronal part of a natural tooth; usually of gold, porcelain, or acrylic resin.
Farlex Partner Medical Dictionary © Farlex 2012
ar·ti·fi·cial crown
(

ahr-ti-fishăl krown

)

Restoration and covering of the major part of the entire coronal part of a natural tooth.

Medical Dictionary for the Health Professions and Nursing © Farlex 2012
ar·ti·fi·cial crown
(

ahr-ti-fishăl krown

)

Fixed restoration of the major part of the entire coronal part of a natural tooth; usually of gold, porcelain, or acrylic resin.

Medical Dictionary for the Dental Professions © Farlex 2012