ankle
Also found in:
Dictionary
,
Thesaurus
,
Idioms
,
Encyclopedia
,
Wikipedia
.
ankle
[

ang´k'l

]

1. the joint between the leg and foot.

2.

the area around this joint (see illustration).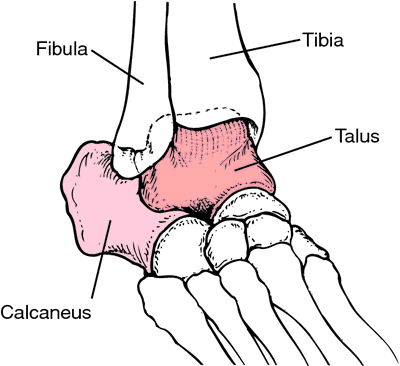 The ankle is a hinge joint formed by the junction of the
tibia
and
fibula
with the
talus
(ankle bone). The bones are cushioned by cartilage and connected by a number of ligaments, tendons, and muscles that strengthen the joint and enable it to be moved. Because it is in almost constant use, the ankle is particularly susceptible to injuries, such as
sprain
and
fracture
. It is also often one of the first joints to be affected by
arthritis
or
gout
.
ankle cuff a weighted strip wrapped around the ankle and closed with a Velcro band; used during exercise.
an·kle
(

ang'kl

),

2. The region of the ankle joint.
ankle
(ăng′kəl)
n.
1. The joint formed by the articulation of the lower leg bones with the talus. The ankle connects the foot with the leg.
2. The slender section of the leg immediately above the foot.
an·kle
(

ang'kĕl

)

2. The region of the ankle joint.

[A.S. ancleon]
ankle
The joint between the lower ends of the TIBIA and FIBULA and the upper surface of the talus bone of the foot. The talus sits on top of the heel bone (calcaneum).
Patient discussion about ankle
Q. What Causes ankle Swelling? My son woke up this morning with a red, swollen ankle. What could cause this situation?
A. A swollen and red ankle suggest either a traumatic injury to the joint or an infection in the joint, adjacent tissues or bones. This is an emergency and it is important to consult a doctor as soon as possible, especially if the joint loses its ability to perform movements in all directions.
Q. What do you do for a sprained ankle?
A. R.I.C.E. - Rest, Ice, Compression, Elevation
Q. How does ice help a sprained ankle or other injury? While I exercise I often get sprain. I have seen many times that ice is used as a first aid for sprains. How does ice help a sprained ankle or other injury?
A. it does two helpful things- lower the pain (cold can do that) and prevent swelling. the swelling is a body normal reaction that protects the area that was injured. but we would like to avoid it because it'll strain us.
More discussions about ankle