renin
(redirected from angiotensinogenase)
Also found in:
Dictionary
,
Thesaurus
,
Encyclopedia
.
renin
[

re´nin

]

a proteolytic enzyme synthesized, stored, and secreted by the juxtaglomerular

cells

of the kidney; it plays a role in regulation of blood pressure by catalyzing the conversion of the plasma glycoprotein

angiotensinogen

to

angiotensin

I. This, in turn, is converted to

angiotensin

II by an enzyme that is present in relatively high concentrations in the lung. Angiotensin II is one of the most potent

vasoconstrictors

known, and also is a powerful stimulus of

aldosterone

secretion.

Stimuli to the secretion of renin include sodium depletion, dehydration, serum albumin depletion, cirrhosis of the liver, cardiac failure, renal artery stenosis, and renal nerve stimulation.

Whenever blood flow to the kidney diminishes, renin is secreted and

angiotensin

is formed. The angiotensin causes widespread

vasoconstriction

and elevation of blood pressure consequent to greatly increased total peripheral resistance. A second effect, the increased secretion of

aldosterone

, results in retention of salt and water by the kidneys and therefore increased extracellular fluid volume, cardiac output, and arterial pressure. Additionally, the angiotensin acts

directly

on the kidneys to cause salt and water retention, which causes a long-term increase in arterial blood pressure.

renin-angiotensin-aldosterone system

the regulation of sodium balance, fluid volume, and blood pressure by secretion of renin in response to reduced perfusion of the kidney. Renin hydrolyzes a plasma globulin to release

angiotensin

I, which is rapidly hydrolyzed to angiotensin II, which in turn stimulates

aldosterone

secretion. Aldosterone brings about sodium retention, water retention, increase in blood pressure, and restoration of renal perfusion, which shuts off the signal for renin release. Angiotensin II is a potent

vasoconstrictor

, which also increases blood pressure.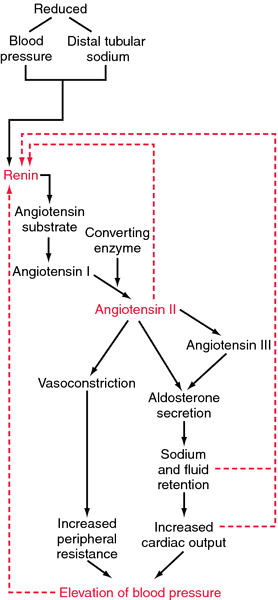 Miller-Keane Encyclopedia and Dictionary of Medicine, Nursing, and Allied Health, Seventh Edition. © 2003 by Saunders, an imprint of Elsevier, Inc. All rights reserved.
re·nin
(

rē'nin

), [MIM*179820]

A term originally applied to a pressor substance obtained from rabbits' kidneys, now an enzyme that acts on angiotensinogen to produce angiotensin I.

Farlex Partner Medical Dictionary © Farlex 2012
renin
(rē′nĭn, rĕn′ĭn)
n.
An enzyme released by the kidneys that cleaves a plasma protein to produce an inactive form of angiotensin which is then converted to an active form that raises blood pressure.
The American Heritage® Medical Dictionary Copyright © 2007, 2004 by Houghton Mifflin Company. Published by Houghton Mifflin Company. All rights reserved.
renin
Physiology An aspartyl proteinase with one substrate, angiotensinogen, which is secreted primarily by the granular cells of the juxtaglomerular apparatus, as well as the brain and endothelial cells, in response to ↓ renal perfusion pressure or ↓ kallikrein; renin cleaves angiotensinogen to yield angiotensin I–a decapeptide, the precursor of angiotensin II–an octapeptide, and angiotensin III–a heptapeptide; the latter 2 are potent vasoconstrictors, and stimulate thirst and ↑ aldosterone production ↑ in Addison's disease, COPD, CRF hypersecretion, eclampsia–and preeclampsia, hyperthyroidism, cirrhosis, ↓ K+, ↓ salt diet, malignant HTN, pregnancy, renal failure, renovascular HTN, functional kidney tumors, drugs–eg, antihypertensives, diuretics, estrogens, OCs ↓ in Cushing syndrome, DM, essential HTN, hypothyroidism, high salt diet, drugs–eg, antihypertensives, levodopa, propranol. See Hypertension, Plasma renin activity.

McGraw-Hill Concise Dictionary of Modern Medicine. © 2002 by The McGraw-Hill Companies, Inc.
re·nin
(

rē'nin

)

Medical Dictionary for the Health Professions and Nursing © Farlex 2012
renin
An enzyme produced by the kidney in conditions of abnormally low blood pressure. Renin catalyses the release of angiotensin I from a blood globulin angiotensinogen, and this, in turn, is converted to angiotensin II by a converting enzyme found in the lung. Angiotensin II causes the adrenal glands to secrete the hormone aldosterone which acts on the kidneys to reduce the loss of sodium in the urine. The increased blood sodium raises the blood pressure. See also ACE INHIBITORs.

Collins Dictionary of Medicine © Robert M. Youngson 2004, 2005
renin
a protein-splitting enzyme (sometimes called a hormone) secreted into the blood by the cells lining the efferent glomerular vessels of the kidney Renin combines with a protein from the liver to form ANGIOTENSIN which in turn stimulates the cortex of the ADRENAL GLAND to release ALDOSTERONE.

Collins Dictionary of Biology, 3rd ed. © W. G. Hale, V. A. Saunders, J. P. Margham 2005
Renin
An enzyme produced in the kidneys that controls the activation of the hormone angiotensin, which stimulates the adrenal glands to produce aldosterone.
Gale Encyclopedia of Medicine. Copyright 2008 The Gale Group, Inc. All rights reserved.