amebiasis
Also found in:
Dictionary
,
Thesaurus
,
Encyclopedia
,
Wikipedia
.
Amebiasis
Definition
Description
Human beings are the only known host of the amebiasis organism, and all groups of people, regardless of age or sex, can become affected. Amebiasis is primarily spread in food and water that has been contaminated by human feces but is also spread by person-to-person contact. The number of cases is typically limited, but regional outbreaks can occur in areas where human feces are used as fertilizer for crops, or in cities with water supplies contaminated with human feces.
Causes and symptoms
The signs and symptoms of amebiasis vary according to the location and severity of the infection and are classified as follows:
Intestinal amebiasis
Intestinal amebiasis can be subdivided into several categories:
ASYMPTOMATIC INFECTION. Most persons with amebiasis have no noticeable symptoms. Even though these individuals may not feel ill, they are still capable of infecting others by person-to-person contact or by contaminating food or water with cysts that others may ingest, for example, by preparing food with unwashed hands.
Key terms
AMEBOMA. An ameboma is a mass of tissue in the bowel that is formed by the amebiasis organism. It can result from either chronic intestinal infection or acute amebic dysentery. Amebomas may produce symptoms that mimic cancer or other intestinal diseases.
PERIANAL ULCERS. Intestinal amebiasis may produce skin infections in the area around the patient's anus (perianal). These ulcerated areas have a "punched-out" appearance and are painful to the touch.
Extraintestinal amebiasis
Extraintestinal amebiasis accounts for approximately 10% of all reported amebiasis cases and includes all forms of the disease that affect other organs.
Other forms of extraintestinal amebiasis, though rare, include infections of the lungs, chest cavity, brain, or genitals. These are extremely serious and have a relatively high mortality rate.
Diagnosis
Diagnosis of amebiasis is complicated, partly because the disease can affect several areas of the body and can range from exhibiting few, if any, symptoms to being severe, or even life-threatening. In most cases, a physician will consider a diagnosis of amebiasis when a patient has a combination of symptoms, in particular, diarrhea and a possible history of recent exposure to amebiasis through travel, contact with infected persons, or anal intercourse.
A diagnosis of amebiasis may be confirmed by one or more tests, depending on the location of the disease.
Stool examination
Sigmoidoscopy
Sigmoidoscopy is a useful diagnostic procedure in which a thin, flexible, lighted instrument, called a sigmoidoscope, is used to visually examine the lower part of the large intestine for amebic ulcers and take tissue or fluid samples from the intestinal lining.
Blood tests
Although tests designed to detect a specific protein produced in response to amebiasis infection (antibody) are capable of detecting only about 10% of cases of mild amebiasis, these tests are extremely useful in confirming 95% of dysentery diagnoses and 98% of liver abscess diagnoses. Blood serum will usually test positive for antibody within a week of symptom onset. Blood testing, however, cannot always distinguish between a current or past infection since the antibodies may be detectable in the blood for as long as 10 years following initial infection.
Imaging studies
Treatment
Asymptomatic or mild cases of amebiasis may require no treatment. However, because of the potential for disease spread, amebiasis is generally treated with a medication to kill the disease-causing amebas. More severe cases of amebic dysentery are additionally treated by replacing lost fluid and blood. Patients with an amebic liver abscess will also require hospitalization and bed rest. For those cases of extraintestinal amebiasis, treatment can be complicated because different drugs may be required to eliminate the parasite, based on the location of the infection within the body. Drugs used to treat amebiasis, called amebicides, are divided into two categories:
Luminal amebicides
These drugs get their name because they act on organisms within the inner cavity (lumen) of the bowel. They include diloxanide furoate, iodoquinol, metronidazole, and paromomycin.
Tissue amebicides
Most patients are given a combination of luminal and tissue amebicides over a treatment period of seven to ten days. Follow-up care includes periodic stool examinations beginning two to four weeks after the end of medication treatment to check the effectiveness of drug therapy.
Prognosis
The prognosis depends on the location of the infection and the patient's general health prior to infection. The prognosis is generally good, although the mortality rate is higher for patients with ameboma, perforation of the bowel, and liver infection. Patients who develop fulminant colitis have the most serious prognosis, with over 50% mortality.
Prevention
There are no immunization procedures or medications that can be taken prior to potential exposure to prevent amebiasis. Moreover, people who have had the disease can become reinfected. Prevention requires effective personal and community hygiene.
Specific safeguards include the following:
Resources
Books
Gale Encyclopedia of Medicine. Copyright 2008 The Gale Group, Inc. All rights reserved.
amebiasis
[

am″e-bi´ah-sis

]

infection with amebae, especially

Entamoeba histolytica.

See illustration.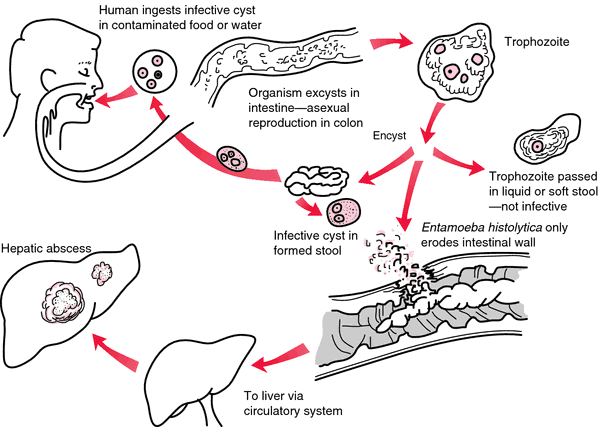 amebiasis cu´tis cutaneous manifestation of amebiasis usually manifested as painful ulcers with distinct undermined borders surrounded by erythematous rims, principally seen in patients with active intestinal or hepatic disease.
Miller-Keane Encyclopedia and Dictionary of Medicine, Nursing, and Allied Health, Seventh Edition. © 2003 by Saunders, an imprint of Elsevier, Inc. All rights reserved.
a·me·bi·a·sis
(

ă'mē-bī'ă-sis

),

Infection with the protozoon Entamoeba histolytica.

[ameba + G. -iasis, condition]

Farlex Partner Medical Dictionary © Farlex 2012
amebiasis
also
amoebiasis
(ăm′ə-bī′ə-sĭs)
n.
An acute disease caused by ingesting substances contaminated with the amoeba Entamoeba histolytica, typically characterized by diarrhea, fever, and abdominal pain, and sometimes affecting organs other than the intestines, such as the liver.
The American Heritage® Medical Dictionary Copyright © 2007, 2004 by Houghton Mifflin Company. Published by Houghton Mifflin Company. All rights reserved.
amebiasis
Parasitology Infection with the protozoan, Entamoeba histolytica, a pathogen associated with poor sanitary conditions Clinical Anorexia, N&V, diarrhea Diagnosis O&P in stool Treatment Diloxanide furoate, paromomycin, metronidazole plus a luminal agent. See Amebic abscess, Amebic dystentery.

McGraw-Hill Concise Dictionary of Modern Medicine. © 2002 by The McGraw-Hill Companies, Inc.
a·me·bi·a·sis
(

am'ē-bī'ă-sis

)

Infection with Entamoeba histolytica or other pathogenic amebae.

[ameba + G. -iasis, condition]

Medical Dictionary for the Health Professions and Nursing © Farlex 2012