alveolar gingiva
Also found in:
Dictionary
,
Thesaurus
,
Encyclopedia
.
gingiva
[

jin-ji´vah, jin´jĭ-vah

] (pl. gin´givae) (L.)

the part of the oral mucosa covering the tooth-bearing border of the jaw; called also

gum

.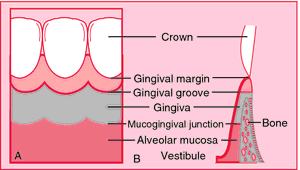 areolar gingiva the portion attached to the alveolar process by loose areolar connective tissue.
attached gingiva
that portion of the gingiva which is firm and resilient and is bound to the underlying cementum and the alveolar bone, thus being immovable. Called also
alveolar gingiva
.
free gingiva the portion that surrounds the tooth and is not directly attached to the tooth surface.
Miller-Keane Encyclopedia and Dictionary of Medicine, Nursing, and Allied Health, Seventh Edition. © 2003 by Saunders, an imprint of Elsevier, Inc. All rights reserved.
al·ve·o·lar gin·gi·va
gingival tissue applied to the alveolar bone.
Farlex Partner Medical Dictionary © Farlex 2012
al·ve·o·lar gin·gi·va
(

al-vē'ŏ-lăr jin'ji-vă

)

Gingival tissue attached to the alveolar bone.

Medical Dictionary for the Health Professions and Nursing © Farlex 2012
al·ve·o·lar gin·gi·va
(

al-vē'ŏ-lăr jin'ji-vă

)

Gingival tissue applied to the alveolar bone.

Medical Dictionary for the Dental Professions © Farlex 2012