ala nasi
Also found in:
Dictionary
,
Thesaurus
,
Encyclopedia
.
ala
[

a´lah

] (pl. a´lae) (L.)

a winglike process. adj., adj a´lar, a´late.

ala na´si

the cartilaginous flap on the outer side of each nostril.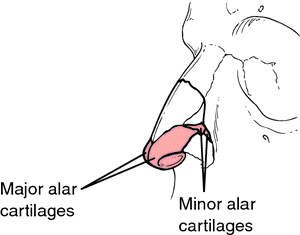 Miller-Keane Encyclopedia and Dictionary of Medicine, Nursing, and Allied Health, Seventh Edition. © 2003 by Saunders, an imprint of Elsevier, Inc. All rights reserved.
a·la of nose
[TA]

the lateral, mobile, more or less flaring, wall of each naris.

Farlex Partner Medical Dictionary © Farlex 2012
a·la na·si
(

ā'lă nā'sī

) [TA]

The lateral wall of each naris.

Medical Dictionary for the Health Professions and Nursing © Farlex 2012
a·la of nose
(

ā'lă nōz

)

[TA]The lateral, mobile, more or less flaring, wall of each naris.

Synonym(s):

ala nasi

[TA] .

Medical Dictionary for the Dental Professions © Farlex 2012