Venturi mask
(redirected from air entrainment mask)
Venturi mask
[

ven-tu´re

]

a type of disposable face mask used to deliver a controlled oxygen concentration to a patient. (See also

oxygen therapy

.) The flow of 100 per cent oxygen through the mask draws in a controlled amount of room air (21 per cent oxygen). Commonly available masks deliver 24, 28, 31, 35, or 40 per cent oxygen. At concentrations above 24 per cent, humidification may be required. Called also

venturi

.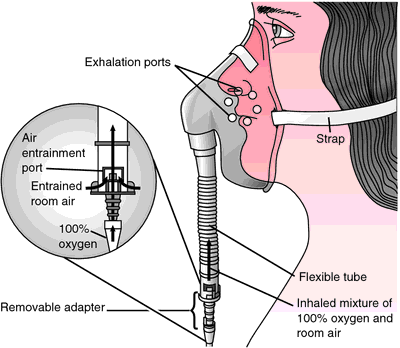 Miller-Keane Encyclopedia and Dictionary of Medicine, Nursing, and Allied Health, Seventh Edition. © 2003 by Saunders, an imprint of Elsevier, Inc. All rights reserved.
Venturi mask
(

ven-tū'rē

),

a mask designed according to the Venturi principle, which allows for precise administration of specific amounts of oxygen. Often called a venti-mask.

Farlex Partner Medical Dictionary © Farlex 2012
Ven·tu·ri mask
(

ven-tyūr'ē mask

)

Oxygen delivery system that allows for the delivery of accurate oxygen concentrations.

Medical Dictionary for the Health Professions and Nursing © Farlex 2012
Venturi,
Giovanni B., Italian physicist, 1746-1822.

Venturi apparatus

Venturi aspiration vitrectomy device

Venturi bobbin myringotomy tube

Venturi collar button myringotomy tube

Venturi effect - term applied to the operation of a Venturi tube and similar systems.

Venturi grommet myringotomy tube

Venturi insufflator

Venturi mask

Venturi meter - a device for measuring flow of a fluid.

Venturi pediatric myringotomy tube

Venturi spirometer

Venturi tube - a tube with a specially streamlined constriction.

Venturi ventilator

Medical Eponyms © Farlex 2012