agglutination test
Also found in:
Dictionary
,
Thesaurus
,
Legal
,
Financial
,
Encyclopedia
.
agglutination
[

ah-gloo″tĭ-na´shun

]

1. the action of an agglutinant substance.

2.

the clumping together in suspension of antigen-bearing cells, microorganisms, or particles in the presence of specific antibodies

(agglutinins)

.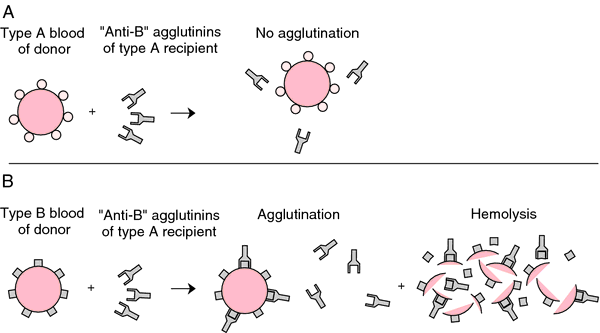 3. the process of union of the surfaces of a wound. adj., adj agglutina´tive.
cross agglutination
the agglutination of particulate antigen by an antibody raised against a different but related antigen; see also
group

agglutination
.
group agglutination agglutination, usually to a lower titer, of various members of a group of biologically related organisms by an agglutinin specific for one of that group. For instance, the specific agglutinin of typhoid bacilli may agglutinate other members of the colon-typhoid group, such as Escherichia coli and Salmonella enteritidis.
intravascular agglutination clumping of particulate elements within the blood vessels; used conventionally to denote red blood cell agglutination.
platelet agglutination
the clumping together of platelets owing to the action of
platelet

agglutinins
; such agglutinins are important in platelet typing.
agglutination test any test based on an agglutination reaction, as serologic tests for specific antibodies.
Miller-Keane Encyclopedia and Dictionary of Medicine, Nursing, and Allied Health, Seventh Edition. © 2003 by Saunders, an imprint of Elsevier, Inc. All rights reserved.
ag·glu·ti·na·tion test
any of a variety of tests dependent on the clumping of cells, microorganisms, or particles when mixed with specific antiserum.
Farlex Partner Medical Dictionary © Farlex 2012
Agglutination Test
A serologic test to identify antibodies in the blood, urine or other fluid.

Segen's Medical Dictionary. © 2012 Farlex, Inc. All rights reserved.