adduction
(redirected from adduce)
Also found in:
Dictionary
,
Thesaurus
,
Legal
,
Encyclopedia
.
adduction
[

ah-duk´shun

]

the act of adducting; the state of being adducted.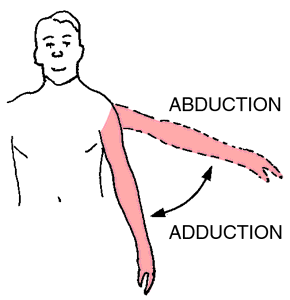 Miller-Keane Encyclopedia and Dictionary of Medicine, Nursing, and Allied Health, Seventh Edition. © 2003 by Saunders, an imprint of Elsevier, Inc. All rights reserved.
ad·duc·tion
(

ă-dŭk'shŭn

), Do not confuse this word with

abduction

. In lecturing and dictation, some physicians pronounce the word "A D duction" to avoid ambiguity.

1. Movement of a body part toward the median plane (of the body, in the case of limbs; of the hand or foot, in the case of digits).

2. Monocular rotation (duction) of the eye toward the nose.

3.

A position resulting from such movement. Compare:

abduction

.

Farlex Partner Medical Dictionary © Farlex 2012
Adduction
The movement of a limb or other body part, usually on a transverse plane, toward the axis or midline—medial plane—of the body.

Segen's Medical Dictionary. © 2012 Farlex, Inc. All rights reserved.
ad·duc·tion
(

ă-dŭk'shŭn

)

1. Movement of a body part toward the median plane (of the body, in the case of limbs; of the hand or foot, in the case of digits) or midline of the body.

2. Monocular rotation (duction) of the eye toward the nose.

3.

A position resulting from such movement.

Compare:

abduction

Medical Dictionary for the Health Professions and Nursing © Farlex 2012
adduction
A movement towards the centre line of the body. Muscles which adduct are called adductors. The term derives from the Latin ad , to and ducere , to draw. Compare ABDUCTION.

Collins Dictionary of Medicine © Robert M. Youngson 2004, 2005
adduction 
Millodot: Dictionary of Optometry and Visual Science, 7th edition. © 2009 Butterworth-Heinemann
ad·duc·tion
(Ad) (

ă-dŭk'shŭn

)

Movement of a body part toward the median plane (of the body, in the case of limbs; of the hand or foot, in the case of digits).

Medical Dictionary for the Dental Professions © Farlex 2012