actomyosin
Also found in:
Dictionary
,
Thesaurus
,
Encyclopedia
,
Wikipedia
.
actomyosin
[

ak″to-mi´o-sin

]

the complex of

actin

and

myosin

constituting muscle fibers and responsible for the contraction and relaxation of muscle.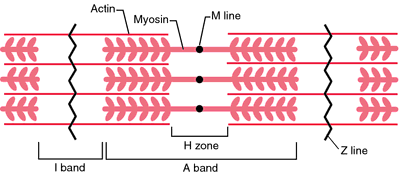 Miller-Keane Encyclopedia and Dictionary of Medicine, Nursing, and Allied Health, Seventh Edition. © 2003 by Saunders, an imprint of Elsevier, Inc. All rights reserved.
ac·to·my·o·sin
(

ak'tō-mī'ō-sin

),

A protein complex composed of actin and myosin; it is the essential contractile substance of muscle fiber, active with MgATP.

Farlex Partner Medical Dictionary © Farlex 2012
actomyosin
(ăk′tə-mī′ə-sĭn)
n.
A complex of actin, myosin, and associated proteins that is responsible for contraction in cells, especially muscle cells.
The American Heritage® Medical Dictionary Copyright © 2007, 2004 by Houghton Mifflin Company. Published by Houghton Mifflin Company. All rights reserved.
Actomyosin
(1) A term which considers the molecular motors—actin and myosin—as a single functional unit
(2) A G actin-like contractile protein complex found in platelets which consists of actin and myosin in a actin:myosin ratio of 100:1—muscle has a ratio of 7:1—and which appears with platelet activation.

Segen's Medical Dictionary. © 2012 Farlex, Inc. All rights reserved.
ac·to·my·o·sin
(

ak'tō-mī'ō-sin

)

A protein complex composed of actin and myosin; the essential contractile substance of muscle fiber.

Medical Dictionary for the Health Professions and Nursing © Farlex 2012