acromioplasty
Also found in:
Dictionary
,
Thesaurus
,
Encyclopedia
.
acromion
[

ah-kro´me-on

]

the lateral extension of the spine of the scapula, forming the highest point of the shoulder. adj.,

adj

acro´mial.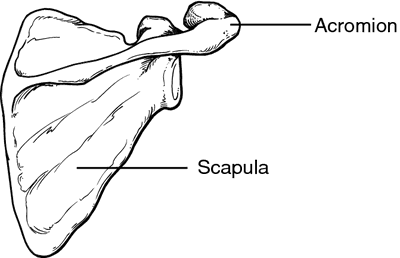 a·cro·mi·o·plas·ty
(

ă-krō'mē-ō-plas'tē

),

A surgical reshaping of the acromion, frequently performed to remedy compression of the supraspinatus portion of the rotator cuff of the shoulder joint between the acromion and the greater tubercle of the humerus.
acromioplasty
(ă-krō′mē-ō-plas″tē) [acromion + -plasty]

The surgical removal of the distal inferior acromion process of the scapula to relieve impingement of soft tissues in the subacromial space, esp. the supraspinatus tendon. This is usually performed with release of the coracoacromial ligament, arthroscopically or through open incision.