clindamycin hydrochloride
(redirected from Zindaclin)
clindamycin hydrochloride
Apo-Clindamycin (CA) Cleocin, Dalacin C
clindamycin palmitate hydrochloride
Cleocin Pediatric, Dalacin C Flavored Granules (CA)
clindamycin phosphate
Cleocin Phosphate, Cleocin T,Clindagel, ClindaMax, Clindesse,Clindets, Dalacin C Phosphate (CA),Dalacin T (CA) (UK), Evoclin, Zindaclin (UK)
Pharmacologic class: Lincosamide
Therapeutic class: Anti-infective
Pregnancy risk category B
FDA Box Warning
• Clostridium difficile-associated diarrhea (CDAD) has been reported with use of nearly all antibacterial agents, including Cleocin, and may range in severity from mild diarrhea to fatal colitis. Treatment with antibacterial agents alters the normal flora of the colon, leading to overgrowth of C. difficile.
• Because Cleocin therapy has been associated with severe colitis that may be fatal, it should be reserved for serious infections for which less toxic antimicrobials are inappropriate. It shouldn't be used in patients with non-bacterial infections such as most upper respiratory tract infections.
• C. difficile produces toxins A and B, which contribute to the development of CDAD. Hypertoxin-producing strains of C. difficile cause increased morbidity and mortality because these infections can be refractory to antimicrobial therapy and may require colectomy. CDAD must be considered in all patients who present with diarrhea following antibiotic use. Careful medical history is necessary because CDAD has occurred more than 2 months after administration of antibacterial agents.
• If CDAD is suspected or confirmed, ongoing antibiotic use not directed against C. difficile may need to be discontinued. Appropriate fluid and electrolyte management, protein supplementation, antibiotic treatment of C. difficile, and surgical evaluation should be instituted as clinically indicated.
Action
Inhibits protein synthesis in susceptible bacteria at level of 50S ribosome, thereby inhibiting peptide bond formation and causing cell death
Availability
Aerosol foam: 1%
Capsules: 75 mg, 150 mg, 300 mg
Granules for oral suspension: 75 mg/5 ml
Injection: 150 mg base/ml
Topical: 1% gel, lotion, single-use applicators, solution, and suspension
Vaginal cream: 2%
Vaginal suppositories (ovules): 100 mg
Indications and dosages
➣ Severe infections caused by sensitive organisms (such as Bacteroides fragilis, Clostridium perfringens, Fusobacterium, pneumococci, staphylococci, and streptococci)
Adults: 300 to 450 mg P.O. q 6 hours, or (for other than C. perfringens) 1.2 to 2.7 g/day I.M. or I.V. in two to four equally divided doses
Children: 16 to 20 mg/kg/day P.O. (hydrochloride) in three to four equally divided doses, or 13 to 25 mg/kg/day P.O. (palmitate hydrochloride) in three to four equally divided doses
Neonates younger than 1 month: 15 to 20 mg/kg/day I.M. or I.V. in three to four equally divided doses
➣ Acute pelvic inflammatory disease
Adults: 900 mg I.V. q 8 hours (given with gentamicin)
➣ Acne vulgaris
Adults and children older than age 12:
Apply a thin film of topical gel, lotion, or solution locally to affected area b.i.d.
Off-label uses
• Bacterial vaginosis (phosphate)
• Chlamydia trachomatis infection in females
• CNS toxoplasmosis in AIDS patients (given with pyrimethamine)
• Pneumocystis jiroveci pneumonia (given with primaquine)
• Rosacea (lotion)
Contraindications
• Hypersensitivity to drug or lincomycin
Precautions
Use cautiously in:
• renal or hepatic impairment
• known alcohol intolerance
• pregnant patients
• neonates.
Administration
• Give oral doses with full glass of water, with or without food.
☞ Don't give as I.V. bolus injection.
• Dilute I.V. solution to a concentration of 18 mg/ml using normal saline solution, dextrose 5% in water, or lactated Ringer's solution. Infuse no faster than 30 mg/minute.
• Don't administer I.M. dosages above 600 mg.
• Inject I.M. doses deep into large muscle mass to prevent induration and sterile abscess.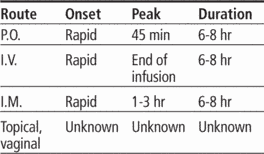 Adverse reactions
GI: nausea, vomiting, diarrhea, abdominal pain, esophagitis, pseudomembranous colitis
Hematologic: neutropenia, leukopenia, agranulocytosis, thrombocytopenia purpura
Hepatic: jaundice, hepatic dysfunction
Skin: maculopapular rash, generalized morbilliform-like rash
Other: bitter taste (with I.V. use), phlebitis at I.V. site, induration and sterile abscess (with I.M. use), anaphylaxis
Interactions
Drug-drug. Erythromycin: antagonistic effect
Kaolin/pectin: decreased GI absorption of clindamycin
Hormonal contraceptives: decreased contraceptive efficacy
Neuromuscular blockers: enhanced neuromuscular blockade
Drug-diagnostic tests. Alanine aminotransferase, alkaline phosphatase, aspartate aminotransferase, bilirubin, creatine kinase: increased levels
Platelets, white blood cells: transient decrease in counts
Patient monitoring
• Monitor creatinine level closely in patients with renal insufficiency.
• Monitor hepatic enzyme levels in patients with hepatic disease.
• Assess for signs and symptoms of hypersensitivity reactions, including anaphylaxis.
• Assess for diarrhea and signs and symptoms of colitis.
Patient teaching
• Tell patient to take drug with food if it causes stomach upset.
☞ Urge patient to contact prescriber immediately if he develops rash, unusual fatigue, or yellowing of skin or eyes or if diarrhea occurs during or after treatment.
• Tell patient that I.V. use may cause bitter taste. Reassure him that this effect will resolve on its own.
• Caution patient not to rely on condoms or diaphragm for contraception for 72 hours after using vaginal preparation; drug may weaken latex products and cause breakage.
• Instruct patient taking hormonal contraceptives to use supplemental birth control method, such as condoms (unless she's using a vaginal preparation); drug may reduce hormonal contraceptive efficacy.
• As appropriate, review all other significant and life-threatening adverse reactions and interactions, especially those related to the drugs and tests mentioned above.
McGraw-Hill Nurse's Drug Handbook, 7th Ed. Copyright © 2013 by The McGraw-Hill Companies, Inc. All rights reserved
clindamycin hydrochloride
(klĭn″dă-mī′sĭn)

An antibiotic drug that treats infections with gram-positive and anaerobic organisms. Like other antibiotics, it may alter the flora of the gastrointestinal tract, leading to pseudomembranous colitis caused by overgrowth of Clostridium difficile.

Medical Dictionary, © 2009 Farlex and Partners