Turner's syndrome
Also found in:
Dictionary
,
Thesaurus
,
Acronyms
,
Encyclopedia
,
Wikipedia
.
Turner's syndrome
[

ter´nerz

]

gonadal

dysgenesis

marked by short stature, undifferentiated (streak) gonads, and variable abnormalities that may include

webbed

neck

, low posterior hair line,

cubitus valgus

, and cardiac defects. The genotype is XO (45,X) or X/XX or X/XXX

mosaic

, and affected individuals have a female phenotype. Information and support regarding this disorder can be obtained from the Turner's Syndrome Society, 14450 T.C. Jester, Suite 260, Houston, TX 77014, telephone 1-800-365-9944.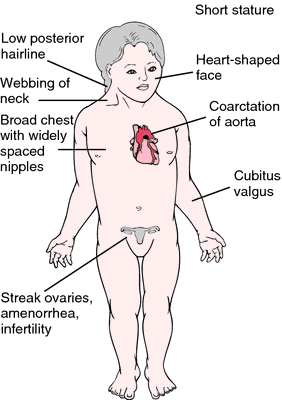 Turner's syndrome
A genetic disorder affecting females and caused by the absence of one of the two X (sex) chromosomes (monosomy). This may be the case in all body cells or only in some of them (mosaicism). Turner's syndrome features short stature, webbed skin on each side of the neck, misshapen ears, absent pubic and armpit hair and failure of development of the vagina, womb and breasts with absent menstruation. There are also abnormalities of the eyes and the bones and an area of narrowing of the largest artery in the body (coarctation of the aorta). (Henry Hubert Turner, 1892–1970, American physician).
Turner's syndrome
a human chromosomal abnormality in which the individual has 45 chromosomes, 44 AUTOSOMES and one X-CHROMOSOME.

The main features of the syndrome are (a) a female phenotype but with few or no SECONDARY SEXUAL CHARACTERS, (b) a broad shield-like chest,(c) slight mental retardation. The condition is important in understanding SEX DETERMINATION in humans since the fact that a single X-chromosome produces a female (rather than a male) suggests that normal maleness (with XY) is not due to the possession of a single X but rather to the presence of a Y-chromosome. See also KLINEFELTER'S SYNDROME.
Turner's syndrome
A disorder in women caused by an inherited chromosomal defect. This disorder inhibits sexual development and causes infertility. A symptom is absence of menstruation.