Trousseau's sign
Also found in:
Dictionary
,
Thesaurus
,
Legal
,
Encyclopedia
.
Trousseau's sign
[

troo-sōz´

]

1.

spontaneous peripheral

venous

thrombosis

, suggestive of visceral carcinoma, especially carcinoma of the lung or gastrointestinal tract.

2.

a sign for

tetany

in which carpal spasm can be elicited by compressing the upper arm and causing ischemia to the nerves distally.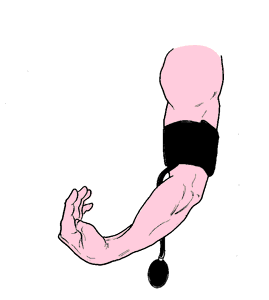 See illustration.
Miller-Keane Encyclopedia and Dictionary of Medicine, Nursing, and Allied Health, Seventh Edition. © 2003 by Saunders, an imprint of Elsevier, Inc. All rights reserved.
Trousseau's sign
A sign of latent TETANY. A SPHYGMOMANOMETER cuff is applied to the upper arm and inflated. Within 4 minutes the forearm muscles go into spasm. (Armand Trousseau, 1801–67, French physician).

Collins Dictionary of Medicine © Robert M. Youngson 2004, 2005