Trichomonas
Also found in:
Dictionary
,
Encyclopedia
,
Wikipedia
.
Trichomonas
[

trik″o-mo´nas

]

a genus of flagellate protozoa parasitic in birds and mammals, including humans.

T. ho´minis

and

T. te´nax

are nonpathogenic species found in the human mouth and intestines.

T. vagina´lis

is found in the vagina and male genital tract and is the cause of

trichomoniasis

.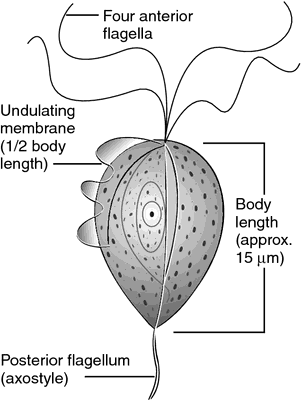 Miller-Keane Encyclopedia and Dictionary of Medicine, Nursing, and Allied Health, Seventh Edition. © 2003 by Saunders, an imprint of Elsevier, Inc. All rights reserved.
Trichomonas
(

trik'ō-mō'nas, trik'ō-mon'as

), Although the correct pronunciation of this word is

trichom'onas

, the pronunciation shown is more commonly heard in the U.S.

A genus of parasitic protozoan flagellates (subfamily Trichomonidinae, family Trichomonadidae) causing trichomoniasis in humans, other primates, and birds. Specificity is more marked for its precise microhabitat than for host species. The genus has been divided into several genera: Trichomonas, Pentatrichomonas, Tetratrichomonas, and Tritrichomonas.

[tricho- + G. monas, single (unit)]

Farlex Partner Medical Dictionary © Farlex 2012
Trich·o·mo·nas
(

trik'ō-mō'năs

)

A genus of parasitic protozoan flagellates causing trichomoniasis.

[tricho- + G. monas, single (unit)]

Medical Dictionary for the Health Professions and Nursing © Farlex 2012
Trichomonas
(trik?o'mo'nas) [? + monas, unit]

Genus of flagellate parasitic protozoa.
Trichomonas hominis
A benign trichomonad found in the large intestine.
Trichomonas tenax
A benign trichomonad that may be present in the mouth.
Trichomonas vaginalis
A species found in the vagina that produces discharge.
T. vaginalis
is fairly common in women, esp. during pregnancy or following vaginal surgery. It is sometimes found in the male urethra and may be transmitted through sexual intercourse. See:
illustration
;
colpitis macularis
Symptoms
T. vaginalis causes persistent burning, redness, and itching of the vulvar tissue associated with a profuse vaginal discharge that may be frothy or malodorous or both. Occasionally, infection with T. vaginalis is asymptomatic.
Treatment
Metronidazole (Flagyl) is taken orally by the woman and her sexual partner. The drug is contraindicated during the first trimester of pregnancy because of potential damage to the developing fetus; clotrimazole vaginal suppositories provide symptomatic relief during the first 12 weeks of gestation.
CAUTION!
Alcohol should not be consumed during metronidazole therapy.
Medical Dictionary, © 2009 Farlex and Partners
Trichomonas
a genus of parasitic protozoan occurring in the digestive and reproductive systems of humans and many other animals.

Collins Dictionary of Biology, 3rd ed. © W. G. Hale, V. A. Saunders, J. P. Margham 2005