tonsillectomy
(redirected from Tonsilectomy)
Also found in:
Dictionary
,
Thesaurus
,
Encyclopedia
.
tonsillectomy
[

ton″sĭ-lek´tah-me

]

excision of

tonsils

, done in treatment of chronic infection of the tonsils, obstructive

sleep

apnea

, purulent

otitis media

, or

hearing loss

associated with otitis media.

Patient Care

. Since most tonsillectomy patients are children, it is important that the preoperative period include adequate emotional preparation of the patient and family. Children should be told in advance of the admission to the hospital and given some idea of what they can expect. They should not be deceived about the possibility of discomfort, but it is best to stress the positive aspects of surgery, such as the fact that they will not suffer as many colds and attacks of sore throat once the surgery is performed and the sore throat has healed.

Although tonsillectomy is rarely associated with complications, there is always the possibility of serious hemorrhage after surgery. The patient should be placed prone on the abdomen in bed immediately after surgery, to allow for adequate drainage of blood and mucus from the throat and mouth and avoid their aspiration into the respiratory passages. Signs of excessive bleeding from the operative site include bright red blood from the mouth or nose, frequent swallowing, and extreme restlessness. Efforts to keep a child quiet may include holding, rocking, or otherwise providing comfort until the effects of anesthesia wear off. An ice collar is helpful in preventing edema, reducing blood loss, and eliminating nausea.

During the immediate postoperative period the diet is restricted to bland liquids or semi-liquids. Citrus fruit juices and liquids at extreme temperatures should be avoided. As the throat heals and edema subsides, more solid foods are gradually added to the diet, but for at least a week after surgery all foods that are chemically, physically, or thermally irritating to the throat should be avoided.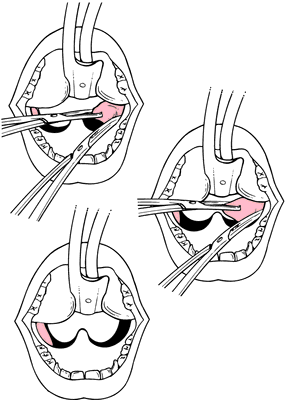 ton·sil·lec·to·my
(

ton'si-lek'tŏ-mē

), Because this word is based on the Latin word

tonsilla

rather than English

tonsil

, the spelling

tonsilitis

is incorrect.

Removal of the entire tonsil.

[tonsil + G. ektomē, excision]
tonsillectomy
/ton·sil·lec·to·my/ (

ton″sĭ-lek´tah-me

) excision of a tonsil.
tonsillectomy
(tŏn′sə-lĕk′tə-mē)
n.
pl.
tonsillecto·mies
Surgical removal of tonsils or a tonsil.
tonsillectomy
[ton′silek′təmē]
Etymology: L, tonsilla + Gk, ektomē, excision
the surgical excision of the palatine tonsils, performed to prevent recurrent tonsillitis. Before surgery several laboratory tests, including a bleeding and clotting time, complete blood count, and urinalysis, are done. Tonsillar tissue is dissected and removed, usually with the patient under general anesthesia, and bleeding areas are sutured or cauterized. An increase in pulse rate, falling blood pressure, restlessness, or frequent swallowing warns of possible hemorrhage. When the patient has recovered from anesthesia, ice chips or clear liquids without a drinking straw may be offered. Tonsillectomy is often combined with adenoidectomy. Compare adenectomy, adenotonsillectomy.
ton·sil·lec·to·my
(

ton'si-lek'tŏ-mē

)

Removal of the entire tonsil.

[tonsil + G. ektomē, excision]
tonsillectomy
Surgical removal of the tonsils. This may be done using forceps and blunt dissection with minimal cutting, or by means of a wire snare that is tightened with a rachet. General anaesthesia is needed.
Tonsillectomy
A surgical procedure to remove the tonsils if the patient has recurrent sore throats or throat infections, or if the tonsils have become so swollen that the patient has trouble breathing or swallowing.
tonsillectomy (tônˈ·s·lekˑ·t·mē),
n surgical procedure in which the tonsils are removed, often because the inflamed tonsils interfere with swallowing or breathing. Tonsillectomies are most common in children and adolescents.
ton·sil·lec·to·my
(

ton'si-lek'tŏ-mē

)

Removal of tonsil.

[tonsil + G. ektomē, excision]
tonsillectomy
excision of tonsils, most commonly performed in dogs.