Swan-Ganz catheter
Also found in:
Dictionary
,
Thesaurus
,
Acronyms
,
Encyclopedia
,
Wikipedia
.
Swan-Ganz catheter
[

swahn-gahnts

]

a soft, flow-directed catheter with a balloon at the tip for measuring pulmonary arterial pressures, right atrial pressures, left atrial pressure, reflected left ventricular end-diastolic pressure, and cardiac output. It is introduced into an internal jugular vein or subclavian vein and is guided by blood flow into the subclavian vein, the superior vena cava, through the right atrium and ventricle, and into the pulmonary artery where it floats freely with the movement of blood. A monitor attached to the distal lumen port provides a reading of pulmonary artery pressure and pulmonary capillary wedge pressure, which is actually a reading of pressure in the left side of the heart.

The catheter permits evaluation of cardiac function by assessing the effectiveness of right and left pumping action of the heart and providing a quantitative measurement of cardiac output, and by allowing for sampling of mixed arterial-venous oxygen levels and calculation of differences between the two. Swan-Ganz catheters have a proximal lumen opening that is situated in the right atrium or superior vena cava, permitting monitoring of central venous pressure. The proximal lumen port is used for administration of drugs and fluids.

The Swan-Ganz catheter provides vital information in cases of heart failure resulting from myocardial infarction and cardiogenic shock, in the care of patients critically ill from hypovolemic shock, and in the diagnosis and treatment of cardiac tamponade. It also is useful in preventive monitoring to avoid overhydration and pulmonary edema, and often is inserted preoperatively in patients undergoing preload and corrective procedures and

open heart

surgery

in order to monitor response to anesthesia during surgery. The catheter is used diagnostically to inject radiopaque dye during angiography to confirm a diagnosis of pulmonary embolism.

Care of the patient with a Swan-Ganz catheter requires extensive instruction and supervised experience in intensive care nursing.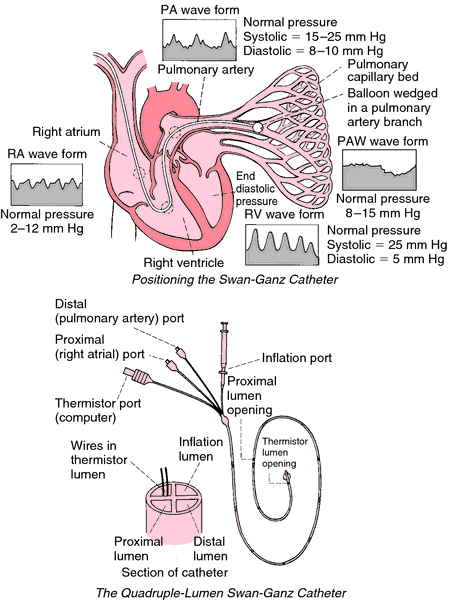 Miller-Keane Encyclopedia and Dictionary of Medicine, Nursing, and Allied Health, Seventh Edition. © 2003 by Saunders, an imprint of Elsevier, Inc. All rights reserved.
Swan-·Ganz cath·e·ter
(

swahn ganz

),

a balloon-tipped flexible catheter commonly used in the treatment of critically ill patients; introduced via a major peripheral vein, usually jugular or subclavian, and floated under

pressure waveform

guidance, with or without fluoroscopy, sequentially through the right atrium, right ventricle, and pulmonary artery, ultimately to wedge, when the balloon is inflated, in a small arterial branch where the tip measures pressure-transmitted retrograde from the left side of the heart, which is assumed to represent left ventricular end-diastolic pressure; side holes allow measurement of central venous pressure; with the balloon deflated, catheter measures pulmonary artery systolic, diastolic, and mean pressures; also allows infusion via catheter; some catheters are fitted with pacing electrodes.

Farlex Partner Medical Dictionary © Farlex 2012
Swan-Ganz catheter
Cardiology A flexible balloon-tipped device placed in the pulmonary artery to monitor hemodynamics of critically ill Pts

McGraw-Hill Concise Dictionary of Modern Medicine. © 2002 by The McGraw-Hill Companies, Inc.
Swan-Ganz cath·e·ter
(

swahn ganz kath'ĕ-tĕr

)

A thin (5 Fr), flexible, flow-directed venous catheter using a balloon to carry it through the heart to a pulmonary artery; when it is positioned in a small arterial branch, pulmonary wedge pressure is measured in front of the temporarily inflated and wedged balloon.

Synonym(s):

pulmonary artery catheter

.

Medical Dictionary for the Health Professions and Nursing © Farlex 2012
Swan-Ganz catheter
A soft, flexible, double-bore tube with a small balloon at one end. The catheter is passed along a vein to the right ATRIUM of the heart and the balloon inflated. The force of the blood flow then carries the balloon into the right VENTRICLE and then into the PULMONARY ARTERY, allowing pressure measurements to be made. (Harold James C. Swan, American cardiologist, b. 1922, and William Ganz, American cardiologist, b. 1919).

Collins Dictionary of Medicine © Robert M. Youngson 2004, 2005
Ganz,
William, U.S. cardiologist, 1919–.

Ganz-Edwards coronary infusion catheter

Swan-Ganz balloon flotation catheter

Swan-Ganz bipolar pacing catheter

Swan-Ganz catheter

- see under

Swan

Swan-Ganz flow-directed catheter

Swan-Ganz pacing TD catheter
---
Swan,
Harold James C., U.S. cardiologist, 1922–.

Swan discission knife

Swan lancet

Swan needle

Swan-Ganz balloon flotation catheter

Swan-Ganz bipolar pacing catheter

Swan-Ganz catheter - a thin, flexible, flow-directed catheter using a balloon to carry it through the heart to a pulmonary artery.

Swan-Ganz flow-directed catheter

Swan-Ganz pacing TD catheter

Medical Eponyms © Farlex 2012
Swan-Ganz cath·e·ter
(

swahn ganz kath'ĕ-tĕr

)

A thin (5 Fr), flexible, flow-directed venous catheter using a balloon to carry it through the heart to a pulmonary artery.

Synonym(s):

pulmonary artery catheter

.

Medical Dictionary for the Dental Professions © Farlex 2012