Schistosoma mansoni
(redirected from S. mansoni)
Schistosoma
[

shis″-, skis″to-so´mah

]

a genus of trematodes, including several species parasitic in the blood of humans and domestic animals. The organisms are called

schistosomes

or blood flukes. Larvae (cercariae) enter the body of the host by way of the digestive tract, or through the skin from contact with contaminated water, and migrate in the blood to small blood vessels of organs of the intestinal or urinary tract; they attach themselves to the blood vessel walls and mature and reproduce. The intermediate hosts are snails of various species.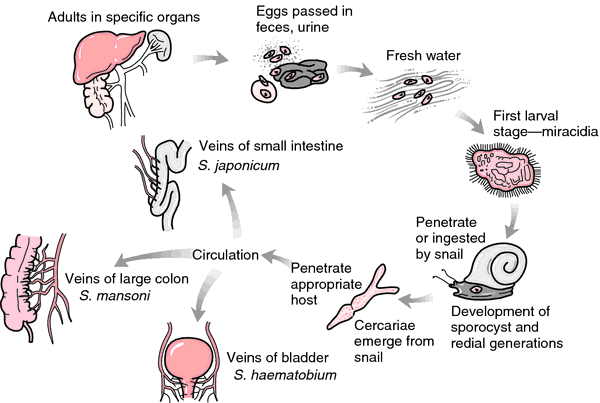 Schistosoma haemato´bium a species endemic in North, Central, and West Africa and the Middle East; the organisms are found in the venules of the urinary bladder wall, and eggs may be isolated from the urine.
Schistosoma japo´nicum a species geographically confined to China, Japan, and nearby countries; found chiefly in the venules of the intestine.
Schistosoma manso´ni a species widely distributed in Africa and parts of South America; the organisms are found in the host's mesenteric veins, and eggs may be found in the feces.
Miller-Keane Encyclopedia and Dictionary of Medicine, Nursing, and Allied Health, Seventh Edition. © 2003 by Saunders, an imprint of Elsevier, Inc. All rights reserved.
Schis·to·so·ma man·so·ni
a common species of trematode characterized by large eggs with a strong lateral spine and transmitted by planorbid snails of the genus Biomphalaria; causes schistosomiasis mansoni in humans in Africa, parts of the Middle East, South America, and certain Caribbean islands.
Farlex Partner Medical Dictionary © Farlex 2012
Schis·to·so·ma man·so·ni
(

skis'tō-sō'mă man-sō'nī

)

A common species of trematodes characterized by large eggs with a strong lateral spine and transmitted by planorbid snails of the genus Biomphalaria; causes schistosomiasis mansoni.

Medical Dictionary for the Health Professions and Nursing © Farlex 2012
Manson,
Sir Patrick, English authority on tropical medicine, 1844-1922.

Schistosoma mansoni - a disease-causing parasite transmitted by snails.

Mansonella - a genus of filaria, widely distributed in tropical Africa and South America.

Mansonia - a genus of brown or black medium-sized mosquitoes.

Manson disease - Synonym(s): Schistosoma mansoni

Manson eye worm - a widely distributed spiruroid nematode parasite of fowl. Synonym(s): Oxyspirura mansoni

Manson pyosis - obsolete term for a superficial pyogenic infection. Synonym(s): pemphigus contagiosus

Manson schistosomiasis - Synonym(s): schistosomiasis mansoni

Manson syndrome - pulmonary obliterative arteriolitis.

Medical Eponyms © Farlex 2012