methocarbamol
(redirected from Robaxacet)
Also found in:
Dictionary
,
Thesaurus
.
relaxant
[

re-lak´sant

]

1. causing relaxation.

2. an agent that causes relaxation.

muscle relaxant an agent that specifically aids in reducing muscle tension.

Miller-Keane Encyclopedia and Dictionary of Medicine, Nursing, and Allied Health, Seventh Edition. © 2003 by Saunders, an imprint of Elsevier, Inc. All rights reserved.
methocarbamol
PMS-Methocarbamol (CA), Robaxin
Pharmacologic class: Autonomic nervous system agent
Therapeutic class: Skeletal muscle relaxant (centrally acting)
Pregnancy risk category C
Action
Unknown. Thought to depress central perception of pain without directly relaxing skeletal muscles or directly affecting motor endplate or motor nerves.
Availability
Injection: 100 mg/ml in 10-ml ampules, 100 mg/ml in 10-ml vials
Tablets: 500 mg, 750 mg
Indications and dosages
➣ Adjunct in muscle spasms caused by acute, painful musculoskeletal conditions
Adults: Initially, 1.5 g P.O. q.i.d. (up to 8 g/day) for 2 to 3 days, then 4 to 4.5 g/day P.O. in three to six divided doses; or 750 mg P.O. q 4 hours or 1 g P.O. q.i.d. or 1.5 g P.O. t.i.d. If oral dosing isn't feasible or if condition is severe, give 1 to 3 g/day I.M. or I.V. for maximum of 3 days.
Contraindications
• Hypersensitivity to drug, its components, or polyethylene glycol (with parenteral form)
• Renal impairment (with parenteral form)
Precautions
Use cautiously in:
• seizure disorders (with parenteral use)
• pregnant or breastfeeding patients
• children (safety not established).
Administration
• For direct I.V. injection, administer slowly. Keep patient supine for 10 to 15 minutes afterward.
• For I.V. infusion, dilute 1 g with up to 250 ml 5% dextrose or 0.9% sodium chloride injection.
• Avoid extravasation; drug is hypertonic.
• Don't give subcutaneously.
• For I.M. use, inject no more than 500 mg (5 ml of 10% injection) into each gluteal area.
• Don't use parenteral form in patients with renal impairment. Polyethylene glycol vehicle may irritate kidneys.
• When giving for tetanus, crush and suspend tablets in water or saline solution, and give via nasogastric tube, if necessary.
• Be aware that drug is usually given as part of regimen that includes rest and physical therapy.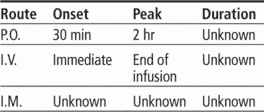 Adverse reactions
CNS: dizziness, light-headedness, drowsiness, syncope, seizures (with I.V. use)
CV: bradycardia or hypotension (with I.V. use)
EENT: blurred vision, conjunctivitis, nasal congestion
GI: nausea, GI upset, anorexia
GU: brown, black, or green urine
Musculoskeletal: mild muscle incoordination (with I.V. or I.M. use)
Skin: flushing (with I.V. use), pruritus, rash, urticaria
Other: fever, pain at I.M. injection site, phlebitis at I.V. site, allergic reactions including anaphylaxis (with I.M. or I.V. use)
Interactions
Drug-drug. Antihistamines, CNS depressants (such as opioids, sedative-hypnotics): additive CNS depression
Drug-diagnostic tests. Urinary 5-hydroxyindoleacetic acid, urine vanillylmandelic acid: false elevations
Drug-herbs. Chamomile, hops, kava, skullcap, valerian: increased CNS depression
Drug-behaviors. Alcohol use: increased CNS depression
Patient monitoring
• Assess for orthostatic hypotension, especially with parenteral use. Keep patient supine for 10 to 15 minutes after I.V. administration.
☞ Watch for anaphylaxis after I.M. or I.V. administration.
☞ Stay alert for bradycardia and syncope after I.V. or I.M. dose. As needed and prescribed, give epinephrine, corticosteroids, or antihistamines.
• Monitor I.V. site frequently to prevent sloughing and thrombophlebitis.
Patient teaching
• Tell patient that drug may turn urine brown, black, or green.
• Caution patient to avoid driving and other hazardous activities, because drug may cause drowsiness or dizziness.
• Instruct patient to move slowly when changing position, to avoid dizziness from sudden blood pressure decrease.
• As appropriate, review all other significant and life-threatening adverse reactions and interactions, especially those related to the drugs, tests, herbs, and behaviors mentioned above.
McGraw-Hill Nurse's Drug Handbook, 7th Ed. Copyright © 2013 by The McGraw-Hill Companies, Inc. All rights reserved
methocarbamol
(mĕth′ə-kär′bə-môl′)
n.
A drug that is a central nervous system depressant and is used for the relief of discomfort associated with painful musculoskeletal conditions.
The American Heritage® Medical Dictionary Copyright © 2007, 2004 by Houghton Mifflin Company. Published by Houghton Mifflin Company. All rights reserved.
methocarbamol
A centrally-acting muscle relaxant drug used to treat conditions of severe muscle spasm. A brand name is Robaxin.

Collins Dictionary of Medicine © Robert M. Youngson 2004, 2005