tetralogy
(redirected from Quadrilogy)
Also found in:
Dictionary
,
Thesaurus
,
Encyclopedia
.
tetralogy
[

tet-ral´ah-je

]

a group or series of four.

tetralogy of Fallot

a

congenital heart defect

that combines four structural anomalies: obstruction to pulmonary flow;

ventricular septal defect

(abnormal opening between the right and left ventricles); dextroposition of the aorta (aortic opening overriding the septum and receiving blood from both ventricles); and right ventricular hypertrophy (increase of volume of the myocardium of the right ventricle).

Infants with this condition are sometimes referred to as

blue

babies

because of the presence of

cyanosis

, an outstanding symptom. This is due to mixing of poorly oxygenated blood from the systemic circulation with oxygenated blood from the lungs, because of the position of the aorta. Other symptoms include

clubbing

of the ends of the fingers,

hemoptysis

,

dyspnea

on exertion, and a slight delay in growth and development.

Diagnosis is confirmed by

electrocardiography

,

angiocardiography

, and

cardiac catheterization

. These procedures demonstrate changes in the heart's electric impulses; defects in the ventricles, aorta, and pulmonary artery; and, from samplings of blood taken from the various chambers of the heart and great vessels, the oxygen content and pressure of the blood in these various areas.

Treatment involves surgical correction whenever possible. Without corrective surgery the prognosis is extremely poor for children who are deeply cyanotic and have dyspnea on slight exertion.

Before surgery, medical treatment is necessary to avoid complications and control dyspneic attacks. Since the hematocrit is high and polycythemia is common, efforts must be made to prevent dehydration and avoid the development of thrombi. Paroxysmal dyspnea, which often follows feeding or a spell of crying, usually can be relieved by placing the infant in knee-chest position, administering oxygen, or administering a mild sedative or morphine.

Surgical procedures for correction of the defects in the heart and great vessels vary according to the severity of symptoms and the age of the patient. In some cases an anastomosis of the arteries may be done as a temporary measure until more extensive surgery is feasible. In most cases

open heart

surgery

is most successful in relieving symptoms and produces the most lasting benefits.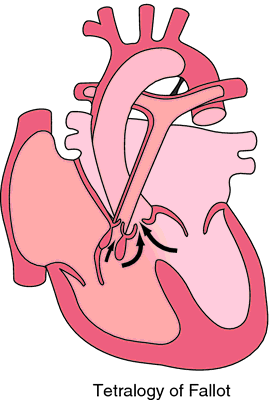 Miller-Keane Encyclopedia and Dictionary of Medicine, Nursing, and Allied Health, Seventh Edition. © 2003 by Saunders, an imprint of Elsevier, Inc. All rights reserved.
tet·rad
(

tet'rad

),

1.

A collection of four things having something in common, such as a deformity with four features, for example, Fallot tetralogy. Synonym(s):

tetralogy

2. In chemistry, a quadrivalent element.

3. In heredity, a bivalent chromosome that divides into four chromatids during meiosis.

[G. tetras (tetrad-), the number four]

Farlex Partner Medical Dictionary © Farlex 2012
tetralogy
(tĕ-trăl′ə-jē, -trŏl′-)
n.
pl.
tetralo·gies
1. A series of four related dramatic, operatic, or literary works.
2. Medicine A complex of four symptoms.
The American Heritage® Medical Dictionary Copyright © 2007, 2004 by Houghton Mifflin Company. Published by Houghton Mifflin Company. All rights reserved.
tet·rad
(

tet'rad

)

1.

A group of four things having something in common, such as a deformity with four features, e.g., Fallot tetralogy.

Synonym(s):

tetralogy

.

2.

chemistry

A quadrivalent element.

3.

genetics

A bivalent chromosome that divides into four during meiosis.

[G. tetras (tetrad-), the number four]

Medical Dictionary for the Health Professions and Nursing © Farlex 2012