quadrant
(redirected from Quadrantal)
Also found in:
Dictionary
,
Thesaurus
,
Legal
,
Financial
,
Encyclopedia
.
quadrant
[

kwod´rant

]

1. one fourth of the circumference of a circle.

2.

one of four corresponding parts, as of the abdominal surface, the dentition, the field of vision, or the tympanic membrane.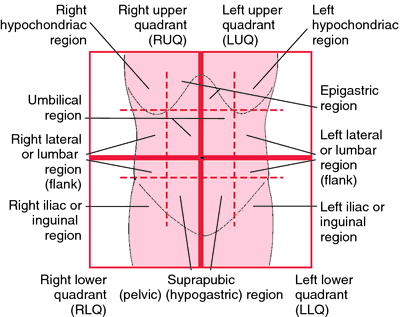 Miller-Keane Encyclopedia and Dictionary of Medicine, Nursing, and Allied Health, Seventh Edition. © 2003 by Saunders, an imprint of Elsevier, Inc. All rights reserved.
qua·drant
(

kwah'drănt

),

1. One quarter of a circle.

2.

anatomy

roughly circular areas are divided for descriptive purposes into quadrants. The abdomen is divided into right upper and lower and left upper and lower quadrants by a horizontal and a vertical line intersecting at the umbilicus. The breast is divided into quadrants by vertical and horizontal lines that intersect in the center of the nipple. Quadrants of the ocular fundus (superior and inferior nasal, superior and inferior temporal) are demarcated by a horizontal and a vertical line intersecting at the optic disc. The tympanic membrane is divided into anterosuperior, anteroinferior, posterosuperior, and posteroinferior quadrants by a line drawn across the diameter of the drum in the axis of the handle of the malleus and another intersecting the first at right angles at the umbo.

[L. quadrans, a quarter]

Farlex Partner Medical Dictionary © Farlex 2012
quad·rant
(

kwahd'rănt

)

1.

One quarter of a circle.

anatomy

Roughly circular areas are divided for descriptive purposes into quadrants. The abdomen is divided into right upper and lower and left upper and lower quadrants by a horizontal and a vertical line intersecting at the umbilicus.

2. Quadrants of the ocular fundus (superior and inferior nasal, superior and inferior temporal) are demarcated by a horizontal and a vertical line intersecting at the optic disc. The tympanic membrane is divided into anterosuperior, anteroinferior, posterosuperior, and posteroinferior quadrants by a line drawn across the diameter of the drum in the axis of the handle of the malleus and another intersecting the first at right angles at the umbo.

[L. quadrans, a quarter]

Medical Dictionary for the Health Professions and Nursing © Farlex 2012
quad·rant
(

kwahd'rănt

)

1. In dentistry, one quarter of combined dental arches; there are two maxillary and two mandibular quadrants.

2. One quarter of a circle; various anatomic structures are described as having quadrants.

[L. quadrans, a quarter]

Medical Dictionary for the Dental Professions © Farlex 2012