vaccination
(redirected from Preventative inoculation)
Also found in:
Dictionary
,
Thesaurus
,
Encyclopedia
.
Vaccination
Definition
Vaccination is the use of vaccines to prevent specific diseases.
Purpose
Many diseases that once caused widespread illness, disability, and
death
now can be prevented through the use of vaccines. Vaccines are medicines that contain weakened or dead bacteria or viruses. When a person takes a vaccine, his or her immune system responds by producing antibodies—substances that weaken or destroy disease-causing organisms. When the person is later exposed to live bacteria or viruses of the same kind that were in the vaccine, the antibodies prevent those organisms from making the person sick. Vaccines usually also stimulate the so-called cellular immune system as well. In other words, the person becomes immune to the disease the organisms normally cause. The process of building up immunity by taking a vaccine is called immunization.
Vaccines are used in several ways. Some, such as the rabies vaccine, are given only when a person is likely to have been exposed to the virus that causes the disease—through a dog bite, for example. Others are given to travelers planning to visit countries where certain diseases are common such as typhoid fever or
yellow fever
. Vaccines such as the
influenza
vaccine, or "flu shot," are given mainly to specific groups of people—older adults and others who are at high risk of developing influenza or its complications. Then, there are vaccines that are given to almost everyone, such as the ones that prevent
diphtheria
, tetanus, polio and
measles
.
Children routinely have a series of vaccinations that begins at birth. Given according to a specific schedule, these vaccinations protect against hepatitis B, diphtheria,
tetanus
, pertussis (
whooping cough
), measles, mumps,
rubella
(German measles), varicella (chickenpox), polio, pneumococcus and
Haemophilus influenzae
type b (Hib disease, a major cause of spinal meningitis) and, in some states, hepatitis A. This series of vaccinations is recommended by the American Academy of Family Physicians, the American Academy of Pediatrics, and the Centers for Disease Control and Prevention and is required in all states before children can enter school. All states will make exceptions for children who have medical conditions such as
cancer
that prevent them from having vaccinations, and some states also will make exceptions for children whose parents object for religious or other reasons.
Description
In addition to those discussed above, vaccines are available for preventing
anthrax
, cholera, hepatitis A, Japanese encephalitis, meningococcal
meningitis
, plague, pneumococcal infection (meningitis, pneumonia), tuberculosis, typhoid fever, and yellow
fever
. Most vaccines are given as injections, but a few are given by mouth.
Some vaccines are combined in one injection, such as the measles-mumps-rubella (MMR) or diphtheria-pertussis-tetanus (DPT) combinations.
Recommended dosage
The recommended dosage depends on the type of vaccine and may be different for different patients. The healthcare professional who gives the vaccine will decide on the proper dose.
A vaccination health record will help parents and health care providers keep track of a child's vaccinations. The record should be started when the child has his or her first vaccination and should be updated with each additional vaccination. While most physicians follow the recommended vaccination schedule, parents should understand that some flexibility is allowed. For example, vaccinations that are scheduled for age two months may be given anytime between six to 10 weeks. When possible, follow the schedule. However, slight departures will not prevent the child from developing immunity, as long as all the vaccinations are given at around the right times. The child's physician is the best person to decide when each vaccination should be given.
Anyone planning a trip to another country should check to find out what vaccinations are needed. Some vaccinations must be given as much as 12 weeks before the trip, so getting this information early is important. Many major hospitals and medical centers have travel clinics that can provide this information. The Traveler's Health Section of the Centers for Disease Control and Prevention also has information on vaccination requirements.
Recommended Immunization Schedule
Age
Vaccine
0-2 months
Hepatitis B
1-4 months
Hepatitis B
2 months
DTP (diphtheria-tetanus-pertussis) Hib (Haemophilus influenzae type B)Polio
4 months
DTPHibPolio
6 months
DTPHib
6-18 months
Hepatitis BPolio
12-15 months
HibMMR (measles-mumps-rubella)
12-18 months
Varicella (chickenpox)
15-18 months
DTP
4-6 years
DTPPolioMMR
11-12 years
Hepatitis B (if not already completed)MMR (if not already completed) Varicella (if not already completed)
11-16 years
DT (diptheria-tetanus booster shot; and then booster shot every 10 to 15 years)
Precautions
Vaccines are not always effective, and there is no way to predict whether a vaccine will "take" in any particular person. To be most effective, vaccination programs depend on whole communities participating. The more people who are vaccinated, the lower everyone's risk of being exposed to a disease. Even people who do not develop immunity through vaccination are safer when their friends, neighbors, children, and coworkers are immunized.
Like most medical procedures, vaccination has risks as well as substantial benefits. Anyone who takes a vaccine should make that sure he or she is fully informed about both the benefits and the risks. Any questions or concerns should be discussed with a physician or other health care provider. The Centers for Disease Control and Prevention, located in Atlanta, Georgia, also is a good source of information.
Vaccines may cause problems for people with certain
allergies
. For example, people who are allergic to the
antibiotics
neomycin or polymyxin B should not take rubella vaccine, measles vaccine,
mumps
vaccine or the combined measles-mumps-rubella (MMR)

vaccine. Anyone who has had a severe allergic reaction to baker's yeast should not take the
hepatitis B
vaccine. Patients who are allergic to antibiotics such as gentamicin sulfate, streptomycin sulfate or other
aminoglycosides
should check with their physicians before taking influenza vaccine, as some influenza vaccines contain small amounts of these drugs. Also, some vaccines, including those for influenza, measles and mumps, are grown in the fluids of chick embryos and should not be taken by people who are allergic to eggs. In general, anyone who has had an unusual reactions to a vaccine in the past should let his or her physician know before taking the same kind of vaccine again. The physician also should be told about any allergies to foods, medicines, preservatives, or other substances.
People with certain other medical conditions should be cautious about taking vaccines. Influenza vaccine, for example, may reactivate Guillain-Barré syndrome (GBS) in people who have had it before. This vaccine also may worsen illnesses that involve the lungs, such as
bronchitis
or pneumonia. Vaccines that cause fever as a side effect may trigger seizures in people who have a history of seizures caused by fever.
Certain vaccines are not recommended for use during
pregnancy
, but some may be given to women at especially high risk of getting a specific disease such as polio. Vaccines also may be given to pregnant women to prevent medical problems in their babies. For example, vaccinating a pregnant woman with tetanus toxoid can prevent her baby from getting tetanus at birth.
Women should avoid becoming pregnant for three months after taking rubella vaccine, measles vaccine, mumps vaccine or the combined measles-mumps-rubella (MMR) as these vaccines could cause problems in the unborn baby.
Women who are breastfeeding should check with their physicians before taking any vaccine.
Side effects
Most side effects from vaccines are minor and easily treated. The most common are pain, redness, and swelling at the site of the injection. Some people may also develop a fever or a rash. In rare cases, vaccines may cause severe allergic reactions, swelling of the brain, or seizures. Anyone who has an unusual reaction after receiving a vaccine should get in touch with a physician right away.
Interactions
Vaccines may interact with other medicines and medical treatments. When this happens, the effects of the vaccine or the other medicine may change or the risk of side effects may be greater. For example,
radiation therapy
and cancer drugs may reduce the effectiveness of many vaccines or may increase the chance of side effects. Anyone who takes a vaccine should let the physician know all other medicines he or she is taking and should ask whether the possible interactions could interfere with the effects of the vaccine or the other medicines.
Resources
Other
Centers for Disease Control National Immunization Program. http://www.cdc.gov/nip.
National Immunization Information Hotline. Centers for Disease Control and Prevention. (800) 232-2522.
Gale Encyclopedia of Medicine. Copyright 2008 The Gale Group, Inc. All rights reserved.
vaccination
[

vak″sĭ-na´shun

]

the introduction of

vaccine

into the body to produce immunity to a specific disease. The term vaccination comes from the Latin

vacca,

cow, and was coined when the first inoculations were given with organisms that caused the mild disease cowpox to produce immunity against smallpox. Today the word has the same meaning as

inoculation

and

immunization

.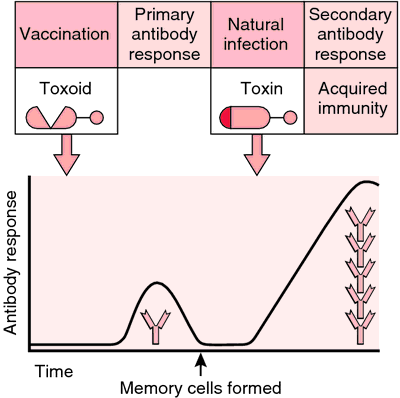 Miller-Keane Encyclopedia and Dictionary of Medicine, Nursing, and Allied Health, Seventh Edition. © 2003 by Saunders, an imprint of Elsevier, Inc. All rights reserved.
vac·ci·na·tion
vaccinophobia.
---
vac·ci·na·tion
(

vak'si-nā'shŭn

),

The act of administering a vaccine.

Farlex Partner Medical Dictionary © Farlex 2012
vaccination
(văk′sə-nā′shən)
n.
1. Inoculation with a vaccine in order to protect against a particular disease.
2. A scar left on the skin by vaccinating.
The American Heritage® Medical Dictionary Copyright © 2007, 2004 by Houghton Mifflin Company. Published by Houghton Mifflin Company. All rights reserved.
vaccination
Immunization The injection of a killed bacteria or virus, or antigen therefrom, to stimulate the immune system to produce antibodies against the microbe, thereby preventing disease. See Anthrax vaccination, Booster, Chickenpox vaccination, Childhood vaccination, DNA vaccine, DPT vaccination, Hepatitis A vaccination, Hepatitis B vaccination, HIB vaccination, HIV vaccination, MMR vaccination, Rubella vaccination, Supervaccine, Vaccine.

McGraw-Hill Concise Dictionary of Modern Medicine. © 2002 by The McGraw-Hill Companies, Inc.
vac·ci·na·tion
(

vak'si-nā'shŭn

)

The act of administering a vaccine.

Medical Dictionary for the Health Professions and Nursing © Farlex 2012
vaccination
See IMMUNIZATION.

Collins Dictionary of Medicine © Robert M. Youngson 2004, 2005
vac·ci·na·tion
(

vak'si-nā'shŭn

)

The act of administering a vaccine.

Medical Dictionary for the Dental Professions © Farlex 2012
Patient discussion about vaccination
Q. Do Vaccines cause Autism? I have heard all over the news lately that the vaccines we give our children can cause Autism. Is this true? Is it dangerous? Should I vaccinate my one year old son?
A. NO

Andrew Wakefield MD started the controversy when publish the idea in Lancet. He was paid 130,000 dollars to lie

Check this link for full story:
http://www.thedoctorsvideos.com/video/749/MMR-and-Autism-The-Andrew-Wakefield-Story


Q. Who Should Receive the Flu Vaccine? Should I go get vaccinated for the flu? I have been told it is advised only for certain people, so who should receive this vaccine?
A. before you would like to go on with any vaccination, you should check out this very long list of links and create your own opinion:

http://www.aegis.ch/neu/links.html

at the bottom you will also find links in english. vaccinations in general are very disputable/dubious and it is probably time that we learn about it.
Q. Does the flu vaccine protect from all kinds of flu? If I get a flu vaccine does that mean I am completely protected from getting the flu?
A. No, the vaccine does not give complete protection from all the flu types out there. The vaccine protects from the most common types of flu, which are: H3N2, H1N1 and one B virus.
More discussions about vaccination
This content is provided by iMedix and is subject to iMedix Terms. The Questions and Answers are not endorsed or recommended and are made available by patients, not doctors.