pericardial effusion
Also found in:
Dictionary
,
Thesaurus
,
Acronyms
,
Encyclopedia
,
Wikipedia
.
effusion
[

ĕ-fu´zhun

]

1. escape of a fluid into a part; exudation or transudation.

2. an exudate or transudate.

pericardial effusion

the accumulation of an abnormally large amount of pericardial fluid in the pericardium.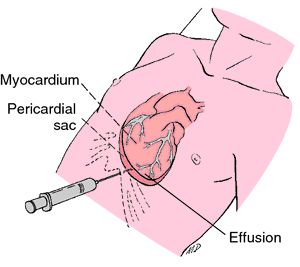 Miller-Keane Encyclopedia and Dictionary of Medicine, Nursing, and Allied Health, Seventh Edition. © 2003 by Saunders, an imprint of Elsevier, Inc. All rights reserved.
per·i·car·di·al ef·fu·sion
increased fluid within the pericardial sac; can cause circulatory compromise by compression of the heart; most often caused by inflammation, infection, malignancy, and uremia.
Farlex Partner Medical Dictionary © Farlex 2012
pericardial effusion
Medtalk An abnormal collection of fluid in the pericardium

McGraw-Hill Concise Dictionary of Modern Medicine. © 2002 by The McGraw-Hill Companies, Inc.
per·i·car·di·al ef·fu·sion
(

per'i-kahr'dē-ăl ĕ-fyū'zhŭn

)

Increased amounts of fluid within the pericardial sac, usually due to inflammation.

Medical Dictionary for the Health Professions and Nursing © Farlex 2012