Papanicolaou test
Also found in:
Dictionary
,
Thesaurus
,
Encyclopedia
,
Wikipedia
.
Papanicolaou test (smear)
[

pap″ah-nik″o-la´oo

]

a simple, painless test used most commonly to detect cancer of the uterus and cervix; it is based on the discovery by Dr. George N. Papanicolaou (1883–1962) that malignant uterine tumors slough off cancerous cells into surrounding vaginal fluid. Called also

Pap test

and

Pap smear

.

The Papanicolaou technique, an exfoliative cytological staining procedure, is used also in diagnosis of lung, stomach, and bladder cancers. It can be performed on any body excretion (urine, feces), secretion (sputum, prostatic fluid, vaginal fluid), or tissue scraping (as from the uterus, cervix, or stomach). The sample is removed from the area being examined, placed on a glass slide, stained, and then studied under a microscope for evidence of abnormal or cancerous cells.

In five minutes the Pap test can reveal uterine or cervical cancer at a stage in which it produces no visible symptoms, has done no damage, and usually can be completely cured. It is recommended that all women over age 18, and younger women who have been sexually active, should have an annual Pap test and pelvic examination.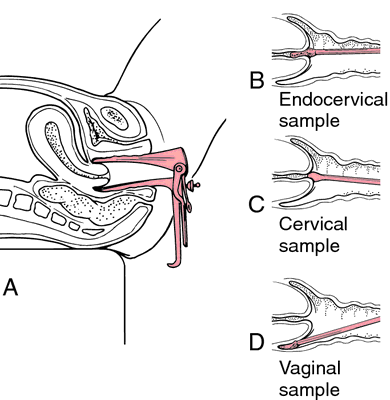 Miller-Keane Encyclopedia and Dictionary of Medicine, Nursing, and Allied Health, Seventh Edition. © 2003 by Saunders, an imprint of Elsevier, Inc. All rights reserved.
Papanicolaou test
(pä′pə-nē′kə-lou′, păp′ə-nĭk′ə-lou′)
The American Heritage® Medical Dictionary Copyright © 2007, 2004 by Houghton Mifflin Company. Published by Houghton Mifflin Company. All rights reserved.
Papanicolaou test
, Pap test (pap?-a-ne'ka-low?)

[George Nicholas Papanicolaou, Gr.-born U.S. scientist, 1883–1962]

,
Pap test
A cytological study used to detect cancer in cells that an organ has shed. The Pap test has been used most often in the diagnosis and prevention of cervical cancers, but it also is valuable in the detection of pleural or peritoneal malignancies and in the evaluation of cellular changes caused by radiation, infection, or atrophy. Synonym:
Pap smear
Cellular material is collected and smeared on a glass slide. DNA hybrid testing for HPV can be done on the liquid-based specimen. When suspicious cells are identified, further testing may be performed on the same sample. Testing for human papilloma virus (HPV) is often performed if results show abnormal changes of uncertain significance. HPV is the primary risk factor for cervical cancer. Currently the two available technologies are Thin Prep Pap Test and Sure Path. See: illustration
Since the introduction of the Pap test, death from cervical cancer in the U.S. has declined by 70%. Although interpretation of the test is subject to human error, a variety of developments have improved test accuracy, including use of computer-generated procedures for detection and examination of abnormal cells and mandated reexamination of sample batches to test quality control. A woman may augment the accuracy and value of the Pap test by following these guidelines: Asking her health care provider about the quality of the laboratory evaluating the results; having an annual Pap test beginning by age 21 or when the woman becomes sexually active; scheduling the test during a time when she does not expect to be bleeding; abstaining from sexual intercourse and and putting nothing in her vagina; providing a detailed medical history, including use of birth control pills or other exogenous hormones and results of past Pap tests; and requesting a second opinion on the Pap test if she is at risk for cancer of the reproductive tract.
CAUTION!
As with any test, it is possible that human errors may influence results. It is important that the quality of performance of the technicians and physicians be periodically reviewed by persons not employed by the laboratory or hospital.
Screening Recommendations
The American Cancer Society (ACS) and the American College of Obstetricians and Gynecologists (ACOG) both recommend that screening for cervical cancer begin about 3 years after a woman begins having vaginal intercourse, but no later than age 21. Annual Pap testing should continue until age 30. After age 30, the ACS says women can reduce test frequency to every 2 to 3 years if their health care provider uses the newer liquid-based Pap tests, which include human papillomavirus (HPV) typing. In young, sexually active women, certain types of HPV cause precancerous changes that can lead to cervical cancer. Women who have had a hysterectomy for benign conditions and who do not have a cervix no longer need to undergo screening.
Screening can stop at age 65 or 70 for those women who have never had positive findings on previous examinations, as long as they have no new risk factors for cervical cancer.
Certain women are at high risk for cervical cancer and may need more frequent testing than the general population. These include women with HPV, chlamydial, or HIV infection and those who are immunosuppressed as a result of other illnesses. Additional risk factors for cervical cancer include early age at first intercourse, a history of sexually transmitted illnesses, cigarette smoking or substance abuse, a previous history of cervical dysplasia, a history of multiple sexual partners, or having a sexual partner who has other partners with cervical cancer.
Patient care
Because Pap testing has been effective in detecting the early stages of cervical cancer, health care professionals should advocate this procedure for their female patients and participate in health promotion efforts to increase the number of women who have the test done regularly.
Medical Dictionary, © 2009 Farlex and Partners
Papanicolaou,
George N., Greek-U.S. physician, anatomist, and cytologist, 1883-1962.

Papanicolaou examination

Papanicolaou smear test

- Synonym(s):

Pap test

Papanicolaou stain - a multichromatic stain used in cancer screening, especially of gynecologic smears.

Papanicolaou test

- Synonym(s):

Pap test

Pap smear

- vaginal or cervical cells obtained for cytological study. Synonym(s):

Papanicolaou smear

Medical Eponyms © Farlex 2012