Panadol
Also found in:
Dictionary
,
Thesaurus
,
Encyclopedia
,
Wikipedia
.
acetaminophen
Abenol (CA), Acephen, Anadin Paracetamol (UK), Apo-Acetaminophen (CA), Aspirin Free Anacin, Atasol (CA), Calpol (UK), Cetaphen, Children's Tylenol Soft Chews, Disprol (UK), Feverall, Galpamol (UK), Genapap, Little Fevers, Mandanol (UK), Mapap, Nortemp, Nortemp Children's, Novo-Gesic (CA), Pain Eze, Panadol (UK), Pediatrix (CA), Silapap, Tempra (CA), Tycolene, Tylenol 8 Hour, Tylenol, Tylenol Arthritis, Tylenol Extra Strength, Valorin
Pharmacologic class: Synthetic nonopioid p-aminophenol derivative
Therapeutic class: Analgesic, antipyretic
Pregnancy risk category B
Action
Unclear. Pain relief may result from inhibition of prostaglandin synthesis in CNS, with subsequent blockage of pain impulses. Fever reduction may result from vasodilation and increased peripheral blood flow in hypothalamus, which dissipates heat and lowers body temperature.
Availability
Caplets (extra-strength): 500 mg
Caplets, capsules: 160 mg, 500 mg, 650 mg (extended-release)
Drops: 100 mg/ml
Elixir: 80 mg/2.5 ml, 80 mg/5 ml, 120 mg/5 ml, 160 mg/5 ml
Gelcaps: 500 mg
Liquid: 160 mg/5 ml, 500 mg/15 ml
Solution: 80 mg/1.66 ml, 100 mg/1 ml, 120 mg/2.5 ml, 160 mg/5 ml, 167 mg/5 ml
Suppositories: 80 mg, 120 mg, 125 mg, 300 mg, 325 mg, 650 mg
Suspension: 32 mg/ml, 160 mg/5 ml
Syrup: 160 mg/5 ml
Tablets (chewable): 80 mg, 160 mg
Tablets (extended-release): 160 mg, 325 mg, 500 mg, 650 mg
Tablets (film-coated): 160 mg, 325 mg, 500 mg
Indications and dosages
➣ Mild to moderate pain caused by headache, muscle ache, backache, minor arthritis, common cold, toothache, or menstrual cramps or fever
Adults and children age 12 and older: 325 to 650 mg P.O. q 4 to 6 hours, or 1,000 mg three or four times daily. Or two extended-release caplets or tablets P.O. q 8 hours, to a maximum dosage of 4,000 mg/day. Or 650 mg P.R. q 4 to 6 hours, to a maximum dosage of 4,000 mg/day. Or, two extra-strength caplets q 6 hours, to a maximum dosage of six caplets/day.
Children: 10 to 15 mg/kg, or as indicated below:
Oral use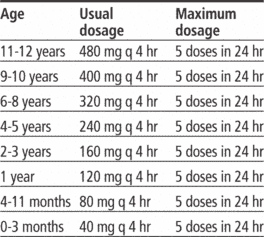 Rectal use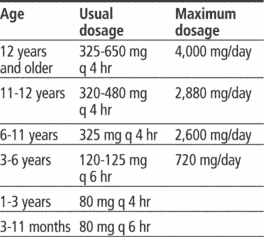 Dosage adjustment
• Renal or hepatic impairment
Contraindications
• Hypersensitivity to drug
Precautions
Use cautiously in:
• anemia, hepatic or renal disease
• elderly patients
• pregnant or breastfeeding patients
• children younger than age 2.
Administration
• Be aware that although most patients tolerate drug well, toxicity can occur with a single dose.
• Know that acetylcysteine may be ordered to treat acetaminophen toxicity, depending on patient's blood drug level. Activated charcoal is used to treat acute, recent acetaminophen overdose (within 1 hour of ingestion).
• Determine overdose severity by measuring acetaminophen blood level no sooner than 4 hours after overdose ingestion (to ensure that peak concentration has been reached).

Adverse reactions
Hematologic: thrombocytopenia, hemolytic anemia, neutropenia, leukopenia, pancytopenia Hepatic: jaundice, hepatotoxicity Metabolic: hypoglycemic coma
Skin: rash, urticaria
Other: hypersensitivity reactions (such as fever)
Interactions
Drug-drug. Activated charcoal, cholestyramine, colestipol: decreased acetaminophen absorption
Barbiturates, carbamazepine, diflunisal, hydantoins, isoniazid, rifabutin, rifampin, sulfinpyrazone: increased risk of hepatotoxicity
Hormonal contraceptives: decreased acetaminophen efficacy
Oral anticoagulants: increased anticoagulant effect
Phenothiazines (such as chlorpromazine, fluphenazine, thioridazine): severe hypothermia
Zidovudine: increased risk of granulocytopenia
Drug-diagnostic tests. Home glucose measurement systems: altered results
Urine 5-hydroxyindole acetic acid: false-positive result
Drug-behaviors. Alcohol use: increased risk of hepatotoxicity
Patient monitoring
☞ Observe for acute toxicity and overdose. Signs and symptoms of acute toxicity are as follows-Phase 1: Nausea, vomiting, anorexia, malaise, diaphoresis. Phase 2: Right upper quadrant pain or tenderness, liver enlargement, elevated bilirubin and hepatic enzyme levels, prolonged prothrombin time, oliguria (occasional). Phase 3: Recurrent anorexia, nausea, vomiting, and malaise; jaundice; hypoglycemia; coagulopathy; encephalopathy; possible renal failure and cardiomyopathy. Phase 4: Either recovery or progression to fatal complete hepatic failure.
Patient teaching
• Caution parents or other caregivers not to give acetaminophen to children younger than age 2 without consulting prescriber first.
• Tell patient, parents, or other care-givers not to use drug concurrently with other acetaminophen-containing products or to use more than 4,000 mg of regular-strength acetaminophen in 24 hours.
• Inform patient, parents, or other caregivers not to use extra-strength caplets in dosages above 3,000 mg (six caplets) in 24 hours because of risk of severe liver damage.
• Advise patient, parents, or other caregivers to contact prescriber if fever or other symptoms persist despite taking recommended amount of drug.
• Inform patients with chronic alcoholism that drug may increase risk of severe liver damage.
• As appropriate, review all other significant and life-threatening adverse reactions and interactions, especially those related to the drugs, tests, and behaviors mentioned above.
McGraw-Hill Nurse's Drug Handbook, 7th Ed. Copyright © 2013 by The McGraw-Hill Companies, Inc. All rights reserved
Panadol
(păn′ə-dôl′, -dŏl′)
A trademark for the drug acetaminophen.
The American Heritage® Medical Dictionary Copyright © 2007, 2004 by Houghton Mifflin Company. Published by Houghton Mifflin Company. All rights reserved.
Panadol®
Acetaminophen, see there.

McGraw-Hill Concise Dictionary of Modern Medicine. © 2002 by The McGraw-Hill Companies, Inc.
Panadol
A brand name for a range of products containing PARACETAMOL.

Collins Dictionary of Medicine © Robert M. Youngson 2004, 2005