overbite
(redirected from Overbites)
Also found in:
Dictionary
,
Thesaurus
,
Encyclopedia
.
overbite
[

o´ver-bīt

]

extension of

incisal

ridges

of the upper anterior teeth below the

incisal ridges

of the corresponding lower teeth when the jaws are closed normally.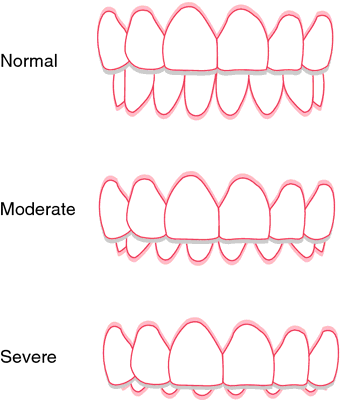 Miller-Keane Encyclopedia and Dictionary of Medicine, Nursing, and Allied Health, Seventh Edition. © 2003 by Saunders, an imprint of Elsevier, Inc. All rights reserved.
ver·ti·cal o·ver·lap
1. the extension of the upper teeth over the lower teeth in a vertical direction when the opposing posterior teeth are in contact in centric occlusion;
2. the distance that teeth lap over their antagonists vertically, especially for the distance that the upper incisal edges drop below the lower ones, but it may also describe the vertical relations of opposing cusps;
3. the relationship of the maxillary incisors to the mandibular incisors when the incisal edges pass each other in centric occlusion.
Farlex Partner Medical Dictionary © Farlex 2012
overbite
(ō′vər-bīt′)
n.
A malocclusion of the teeth in which the front upper incisor and canine teeth project over the lower.
The American Heritage® Medical Dictionary Copyright © 2007, 2004 by Houghton Mifflin Company. Published by Houghton Mifflin Company. All rights reserved.
malocclusion of teeth
A form of dental malocclusion in which there is a reversal of the normal relationship of the mandibular and maxillary teeth, with lateral displacement of opposing teeth (i.e., a poor bite) and difficulty in mastication. Normally, mandibular teeth lie inside maxillary teeth and the outside mandibular cusps or incisal edges meet the central portion of opposing maxillary teeth.
 
Complications
Periodontal disease, caries.

Segen's Medical Dictionary. © 2012 Farlex, Inc. All rights reserved.
ver·ti·cal o·ver·lap
(

vĕr'ti-kăl ō'vĕr-lap

)

1. The extension of the upper teeth over the lower teeth in a vertical direction when the opposing posterior teeth are in contact in centric occlusion.

2. The distance that teeth lap over their antagonists vertically.

3.

The relationship of the maxillary incisors to the mandibular incisors when the incisal edges pass each other in centric occlusion.

Synonym(s):

overbite

.

Medical Dictionary for the Health Professions and Nursing © Farlex 2012
ver·ti·cal o·ver·lap
(

vĕr'ti-kăl ō'vĕr-lap

)

1. Extension of upper teeth over lower teeth in a vertical direction when opposing posterior teeth are in contact in centric occlusion.

2. Distance that teeth lap over their antagonists vertically, especially for distance that the upper incisal edges drop below lower ones, but may also describe vertical relations of opposing cusps.

3.

Relationship of maxillary to mandibular incisors when incisal edges pass each other in centric occlusion.

Synonym(s):

overbite

.

Medical Dictionary for the Dental Professions © Farlex 2012