estradiol
(redirected from Oestrogel)
Also found in:
Dictionary
,
Thesaurus
,
Encyclopedia
.
estradiol
[

es″trah-di´ol, es-tra´de-ol

]

1.

the most potent naturally occurring ovarian and placental

estrogen

in mammals; it prepares the uterus for implantation of the fertilized ovum and promotes the maturation of and maintenance of the female accessory reproductive organs and

secondary sex

characters

.

Miller-Keane Encyclopedia and Dictionary of Medicine, Nursing, and Allied Health, Seventh Edition. © 2003 by Saunders, an imprint of Elsevier, Inc. All rights reserved.
estradiol
Bedol (UK), Elestrin, Elleste (UK), Elleste-Solo (UK), Estrace, Estring, Estrogel, Gynodiol, Innofem, Oestrogel (UK), Progynova (UK), Sandrena (UK), Vagifem, Zumenon (UK)
estradiol acetate
Femring, Femtrace
estradiol cypionate
Depo-Estradiol
estradiol hemihydrate
Estrasorb
estradiol transdermal system
Alora, Climara, Estraderm, Estradot (UK), Evorel (UK), Fematrix (UK), Femseven (UK), Menostar, Vivelle
estradiol valerate
Climaval (UK), Delestrogen, Femogex (CA)
Pharmacologic class: Estrogen
Therapeutic class: Hormone
Pregnancy risk category X
Action
Binds to nuclear receptors in responsive tissues (such as female genital organs, breasts, and pituitary gland), enhancing DNA, RNA, and protein synthesis. In androgen-dependent prostate cancer, competes for androgen receptor sites, inhibiting androgen activity. Also decreases pituitary release of follicle-stimulating hormone and luteinizing hormone.
Availability
Injection (cypionate in oil): 5 mg/ml
Injection (valerate in oil): 10 mg/ml, 20 mg/ml, 40 mg/ml
Tablets: 0.5 mg, 1 mg, 1.5 mg, 2 mg
Tablets (film-coated): 25.8 mcg estradiol hemidrate (equivalent to 25 mcg estradiol)
Transdermal system: 25 mcg/24-hour release rate, 37.5 mcg/24-hour release rate, 50 mcg/24-hour release rate, 75 mcg/24-hour release rate, 100 mcg/24-hour release rate
Vaginal cream: 100 mcg/g
Vaginal ring: 2 mg released over 90 days
Vaginal tablets: 10 mcg
Indications and dosages
➣ Symptoms of menopause, atrophic vaginitis, female hypogonadism, ovarian failure, and osteoporosis
Adults: 0.5 to 2 mg (estradiol) P.O. daily continuously or cyclically. Or 1 to 5 mg (cypionate) or 10 to 20 mg (valerate) I.M. monthly. Or 50- or 100-mcg/24-hour transdermal patch applied twice weekly (Alora, Estraderm) or weekly (Climara). Or 25-mcg/24-hour patch applied q 7 days (FemPatch) or 37.5- to 100-mcg transdermal patch applied twice weekly (Vivelle). Or 2 to 4 g (0.2 to 0.4 mg) vaginal cream (estradiol) applied daily for 1 to 2 weeks, then decreased to 1 to 2 g/day for 1 to 2 weeks, then a maintenance dose of 1 g one to three times weekly for 3 weeks, then off for 1 week; repeat cycle once vaginal mucosa has been restored. Or 2-mg vaginal ring q 3 months or 10-mcg vaginal tablet once daily for 2 weeks, then twice weekly.
➣ Postmenopausal breast cancer
Adults: 10 mg P.O. t.i.d. (estradiol)
➣ Prostate cancer
Adults: 1 to 2 mg P.O. t.i.d. (estradiol) or 30 mg I.M. q 1 to 2 weeks (valerate)
Contraindications
• Hypersensitivity to drug or its components
• Thromboembolic disease (current or previous)
• Undiagnosed vaginal bleeding
• Breast or reproductive system cancer (except in metastatic disease)
• Estrogen-dependent neoplasms
• Pregnancy
Precautions
Use cautiously in:
• cardiovascular, hepatic, or renal disease
• breastfeeding patients.
Administration
• Inject I.M. dose deep into large muscle mass; rotate injection sites.
• If switching from oral to transdermal estrogen, apply patch 1 week after withdrawal of oral therapy.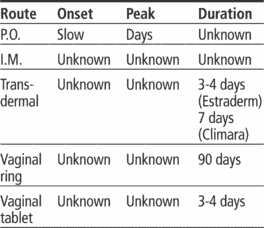 Adverse reactions
CNS: headache, dizziness, lethargy, depression
CV: hypertension, myocardial infarction (MI), thromboembolism
EENT: contact lens intolerance, worsening of myopia or astigmatism
GI: nausea, vomiting, bowel obstruction with vaginal ring (rare)
GU: amenorrhea, dysmenorrhea, breakthrough bleeding, cervical erosions, decreased libido, vaginal candidiasis, erectile dysfunction, testicular atrophy, gynecomastia, breast pain or tenderness
Hepatic: jaundice
Metabolic: sodium and fluid retention, hypercalcemia, hyperglycemia
Musculoskeletal: leg cramps
Skin: oily skin, acne, pigmentation changes, urticaria
Other: weight loss or gain, edema, increased appetite, toxic shock syndrome with vaginal ring (rare)
Interactions
Drug-drug. Insulin, oral hypoglycemics, warfarin: altered requirements for these drugs
Drug-diagnostic tests. Antithrombin III, folate, low-density lipoproteins, pyridoxine, total cholesterol, urine pregnanediol: decreased levels
Cortisol; factors VII, VIII, IX, and X; glucose; high-density lipoproteins; phospholipids; prolactin; prothrombin; sodium; triglycerides: increased levels
Metyrapone test: false decrease
Thyroid function tests: false interpretation
Drug-behaviors. Smoking: increased risk of adverse CV reactions
Patient monitoring
☞ Monitor vital signs and cardiovascular status, especially for hypertension, thromboembolism, and MI.
• Be aware that a few cases of ring adherence to the vaginal wall have occurred, which may require evaluation of wall ulceration and erosion.
• Assess vision.
• In diabetic patient, monitor blood glucose level and watch for signs and symptoms of hyperglycemia.
Patient teaching
• Instruct patient to place transdermal patch on clean, dry skin area.
• Teach proper technique for use of vaginal tablet, ring, or cream, as appropriate.
• Tell patient drug may cause loss of libido (in women) or erectile dysfunction (in men). Encourage patient to discuss these issues with prescriber.
☞ Teach patient to recognize and immediately report signs and symptoms of thromboembolism.
☞ Caution patient not to take drug if she is or plans to become pregnant.
• Advise patient that drug may worsen nearsightedness or astigmatism and make contact lenses uncomfortable.
• As appropriate, review all other significant and life-threatening adverse reactions and interactions, especially those related to the drugs, tests, and behaviors mentioned above.
McGraw-Hill Nurse's Drug Handbook, 7th Ed. Copyright © 2013 by The McGraw-Hill Companies, Inc. All rights reserved
es·tra·di·ol (E2),
(

es-tră-dī'ol, es-tra'dē-ōl

),

β-Estradiol; 17β-estradiol; the most potent naturally occurring estrogen in mammals, formed by the ovary, placenta, testis, and possibly the adrenal cortex; therapeutic indications for estradiol are those typical of an estrogen. α-Estradiol (17α-estradiol), exhibits considerably less biologic activity.

Farlex Partner Medical Dictionary © Farlex 2012
estradiol
(ĕs′trə-dī′ôl′, -ōl′, -ŏl′)
n.
An estrogenic hormone, C18H24O2, that is produced by the ovaries and is the dominant naturally occurring estrogen in women between puberty and menopause. It is used to treat menopausal symptoms and other conditions.
The American Heritage® Medical Dictionary Copyright © 2007, 2004 by Houghton Mifflin Company. Published by Houghton Mifflin Company. All rights reserved.
estradiol
E2 Endocrinology The most potent natural estrogen, produced chiefly by the ovary and in small amount by the testis; it is measured to evaluate postmenopausal status or suspected hypogonadism ↑ in Ovarian tumors, pregnancy, adrenal feminizing tumors, precocious puberty, liver disease, gynecomastia ↓ in OCs, ovarian failure, menopause, hypogonadism

McGraw-Hill Concise Dictionary of Modern Medicine. © 2002 by The McGraw-Hill Companies, Inc.
es·tra·di·ol
(

es-tră-dī'ol

)

The most potent naturally occurring estrogen, formed by the ovary, placenta, testes, and possibly the cortex of the suprarenal gland.

Synonym(s):

oestradiol

.

Medical Dictionary for the Health Professions and Nursing © Farlex 2012
es·tra·di·ol
(

es-tră-dī'ol

)

Most potent naturally occurring estrogen in mammals, formed by the ovary, placenta, testis, and possibly the cortex of the suprarenal gland.

Medical Dictionary for the Dental Professions © Farlex 2012