normal distribution
(redirected from Normal probability distribution)
Also found in:
Dictionary
,
Thesaurus
,
Financial
,
Encyclopedia
.
distribution
[

dis″trĭ-bu´shun

]

1. the specific location or arrangement of continuing or successive objects or events in space or time.

2. the extent of a ramifying structure such as an artery or nerve and its branches.

3. the geographical range of an organism or disease.

frequency distribution in statistics, a mathematical function that describes the distribution of measurements on a scale for a specific population.

normal distribution

a symmetrical distribution of scores with the majority concentrated around the

mean

; for example, that representing a large number of independent random events. It is in the shape of a bell-shaped curve. Called also gaussian distribution. See illustration.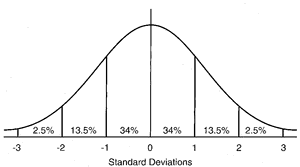 probability distribution a mathematical function that assigns to each measurable event in a sample group the probability that the event will occur.
Miller-Keane Encyclopedia and Dictionary of Medicine, Nursing, and Allied Health, Seventh Edition. © 2003 by Saunders, an imprint of Elsevier, Inc. All rights reserved.
nor·mal dis·tri·bu·tion
a specific bell-shaped frequency distribution commonly assumed by statisticians to represent the infinite population of measurements from which a sample has been drawn; characterized by two parameters, the mean (x) and the standard deviation (σ), in the equation:
Farlex Partner Medical Dictionary © Farlex 2012
normal distribution
A bell-shaped frequency distribution of data, the plotted curve of which is symmetrical about the mean, indicating no significant deviation of the data set from the mean.

Properties of a normal distribution
Continuous and symmetrical, with both tails extending to infinity; arithmetic mean, mode, and median are identical. The curve's shape is completely determined by the mean and standard deviation.

Segen's Medical Dictionary. © 2012 Farlex, Inc. All rights reserved.
gaus·si·an dis·tri·bu·tion
(

gow'sē-ăn dis'tri-byū'shŭn

)

The statistical distribution of members of a population around the population mean. In a gaussian distribution, 68.2% of values fall within ± 1 standard deviation (SD); 95.4% fall within ± 2 SD of the mean; and 99.7% fall within ± 3 SD of the mean.

Synonym(s):

bell-shaped curve

,

normal distribution

.

Medical Dictionary for the Health Professions and Nursing © Farlex 2012
normal distribution
Gaussian distribution, a distribution which when expressed graphically is bell-shaped. The distribution to which many frequency distributions of biological variables, such as height, weight, intelligence, etc correspond.

Collins Dictionary of Medicine © Robert M. Youngson 2004, 2005
Gauss,
Johann K.F., German physicist, 1777-1855.

gauss - a unit of magnetic field intensity.

gaussian curve - a specific bell-shaped frequency distribution. Synonym(s): gaussian distribution; normal distribution

Medical Eponyms © Farlex 2012
nor·mal dis·tri·bu·tion
(

nōr'măl dis'tri-byū'shŭn

)

Specific bell-shaped frequency distribution commonly assumed by statisticians to represent the infinite population of measurements from which a sample has been drawn.

Medical Dictionary for the Dental Professions © Farlex 2012