Nightingale
(redirected from Nightengale)
Also found in:
Dictionary
,
Thesaurus
,
Encyclopedia
.
Nightingale
[

nīt´in-gāl″

]

Florence (1820– 1910). Founder of modern nursing. She was born in Florence, Italy, of English parents. In 1854 she led a group of nurses to the Crimea to care for English troops, and later she reorganized military nursing and sanitation in England and then India. She also contributed to the field of dietetics, and her skill as a statistician in gathering data won her election to the Royal Statistical Society and honorary membership in the American Statistical Association.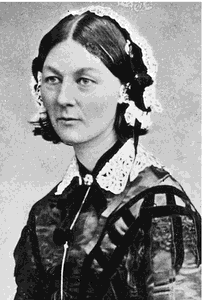 Night·in·gale
(

nīt'in-gāl

),

Florence, 1820-1910. English nurse; founder of modern nursing.
Nightingale, Florence
(1820-1910), considered the founder of modern nursing. After limited formal training in nursing in Germany and Paris, she became superintendent in 1853 of a small hospital in London. Her outstanding success in reorganizing the hospital led the British government to request that she head a mission to the Crimea, where Britain was fighting a war with Russia. After her return to England in 1856, she wrote Notes on Hospitals and Notes on Nursing and founded a training school for nurses at St. Thomas' Hospital, where she attracted well-educated, dedicated women. The graduates became matrons of the most important hospitals in Great Britain, thus raising the standards of nursing across the nation and eventually around the world. Although she was, by then, bedridden much of the time, she carried on her work on the sanitary reform of India, conducted a study of midwifery, helped establish visiting nurse services, and worked for the reform of the poor laws in which she proposed separate institutions for the sick, the insane, the incurable, and children. One of Florence Nightingale's outstanding contributions was significantly decreasing the infection-related death rate through cleanliness. After Longfellow wrote Santa Filomena, she became known as "The Lady with the Lamp"; the Nightingale Pledge, named after her, embodies her ideals and has inspired thousands of young graduating nurses.