magnesium carbonate
(redirected from Nesquehonite)
Also found in:
Dictionary
,
Thesaurus
,
Encyclopedia
.
magnesium
(Mg) [

mag-ne´ze-um

]

a chemical element, atomic number 12, atomic weight 24.312. (See Appendix 6.) Its salts are essential in nutrition, being required for the activity of many enzymes, especially those concerned with

oxidative

phosphorylation

. It is found in the intra- and extracellular fluids and is excreted in urine and feces. The normal serum level is approximately 2 mEq/L. Magnesium deficiency causes irritability of the nervous system with tetany, vasodilation, convulsions, tremors, depression, and psychotic behavior.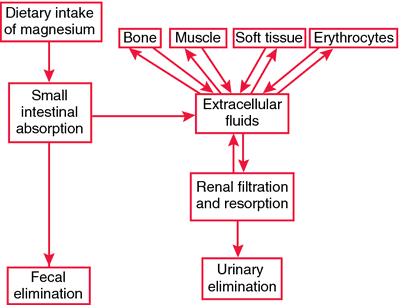 magnesium citrate
a saline
laxative
used for bowel evacuation before diagnostic procedures or surgery of the colon; administered orally.
magnesium silicate
MgSiO
3
, a silicate salt of magnesium; the most common hydrated forms found in nature are
asbestos
and
talc
.
Miller-Keane Encyclopedia and Dictionary of Medicine, Nursing, and Allied Health, Seventh Edition. © 2003 by Saunders, an imprint of Elsevier, Inc. All rights reserved.
mag·ne·si·um car·bon·ate
agent used in gastric and intestinal acidity and as a laxative.
Farlex Partner Medical Dictionary © Farlex 2012
magnesium carbonate
MgCO
3
·3H
2
O; a bulky, white, odorless powder, taken by mouth to neutralize stomach acid.
Medical Dictionary, © 2009 Farlex and Partners
magnesium carbonate
A mild antacid drug used to treat DYSPEPSIA. Brand names of preparations containing it are Algicon and Topal.

Collins Dictionary of Medicine © Robert M. Youngson 2004, 2005