lamp
(redirected from MySQL)
Also found in:
Dictionary
,
Thesaurus
,
Financial
,
Acronyms
,
Encyclopedia
,
Wikipedia
.
lamp
[

lamp

]

an apparatus for furnishing heat or light.

Gullstrand's slit lamp

an apparatus for projecting a narrow flat beam of intense light into the eye. See also

slit lamp

.

slit lamp

one embodying a diaphragm containing a slitlike opening, by means of which a narrow, flat beam of intense light may be projected into the eye. It gives intense illumination so that microscopic study may be made of the conjunctiva, cornea, iris, lens, and vitreous, the special feature being that it illuminates a section through the substance of these structures.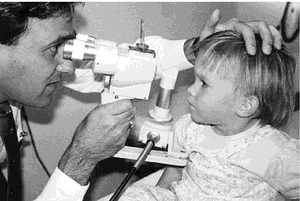 sun lamp
(
ultraviolet lamp
) an electric light that transmits
ultraviolet rays
; used as a therapeutic device and as a means of obtaining an artificial suntan. See also
ultraviolet therapy
.
Miller-Keane Encyclopedia and Dictionary of Medicine, Nursing, and Allied Health, Seventh Edition. © 2003 by Saunders, an imprint of Elsevier, Inc. All rights reserved.
lamp
(

lamp

),

Illuminating device; source of light.

See also:

light

.

Farlex Partner Medical Dictionary © Farlex 2012
(1) Lamp

A device that generates light and/or heat
(2) LAMP
Neurology Acronym for Limbic system­associated membrane protein. A member of the IgLON (immunoglobulin LAMP, OBCAM and neurotrimin) subfamily of proteins within the immunoglobulin superfamily, which participate in regulating synapse formation in hippocampal neuron
Oncology Acronym for Locally Advanced Multimodality Protocol. A clinical trial that compared sequential chemotherapy (paclitaxel and carboplatin) followed by radiation therapy alone with (1) low-dose induction chemotherapy (as above) given weekly followed by concurrent chemoradiation and (2) concurrent chemoradiation regimen followed by consolidation chemotherapy (as above).

Segen's Medical Dictionary. © 2012 Farlex, Inc. All rights reserved.
LAMP
Cardiology A clinical trial–Locally Advanced Multimodality Protocol

McGraw-Hill Concise Dictionary of Modern Medicine. © 2002 by The McGraw-Hill Companies, Inc.
lamp
(

lamp

)

Illuminating device; source of light.

See also:

light

Medical Dictionary for the Health Professions and Nursing © Farlex 2012
lamp
[Gr. lampein, to shine]

A device for producing and applying light, heat, radiation, and various forms of radiant energy for the treatment of disease, resolution of impairments, or palliation of pain.
infrared lamp
A lamp that develops a high temperature, emitting infrared rays; a heat lamp. The rays penetrate only a short distance (5 to 10 mm) into the skin. Its principal effect is to cause heating of the skin.
slit lamp
A lamp so constructed that an intense light is emitted through a slit; used for examination of the eye. See: illustration
illustration
sun lamp
Ultraviolet lamp.
ultraviolet lamp
A lamp that produces light with a wavelength in the range of 180 to 400 nm. It is used to treat certain skin conditions such as psoriasis or T-cell lymphoma, to promote wound healing by destroying bacteria, and to tan the skin. Ultraviolet lamps produce light within specific ranges: ultraviolet-A (UV-A) lamps generate light having a wavelength of 320 to 400 nm; ultraviolet-B (UV-B) produces light in the range of 290 to 320 nm; ultraviolet-C (UV-C) has a wavelength of 180 to 290 nm. Synonym: sun lamp
CAUTION!
Patients and operators must wear ultraviolet-resistant goggles during treatment. Overexposure to ultraviolet light produces burning and blistering of the skin and may predispose patients to skin cancers.
Wood's lamp
Wood's filter.
Medical Dictionary, © 2009 Farlex and Partners
lamp
Any device that produces light or heat.
Burton lamp
Ultraviolet lamp, including some short wavelengths from the visible spectrum (e.g. Wood's light), mounted with a magnifying lens in a rectangular frame. It is used primarily in the evaluation of the fit of a hard contact lens, in conjunction with the instillation of fluorescein into the eye.
See
staining
.
filament lamp
A lamp in which light is produced by electrically heating a filament, usually of tungsten. The filament is contained in a bulb in which there is either a vacuum or an inert gas. The emitted spectrum is continuous.
See
continuous spectrum
.
fluorescent lamp
Discharge lamp in which most of the light is emitted by a layer of fluorescent material excited by the ultraviolet radiation from the discharge (CIE).
See
fluorescence
.
halogen lamp
A tungsten filament lamp in which the glass envelope is made of quartz and is filled with gaseous halogens. This permits a higher filament temperature and consequently provides a higher luminance and a higher colour temperature as well as a longer operating life than a conventional filament lamp of the same input power. Halogen lamps are used in some ophthalmoscopes and retinoscopes and as very bright sources for people with low vision.
Syn.
tungsten-halogen lamp.
incandescent electric lamp
Lamp in which light is produced by means of a body (filament of carbon or metal) heated to incandescence by the passage of an electric current (CIE).
See
incandescence
;
luminescence
.
Macbeth lamp
A lamp used in testing colour vision. It contains a powerful tungsten filament bulb with a blue filter of specific absorption properties such that it produces a source of a colour temperature of about 6800 K, thus approximating the spectral characteristics of natural sunlight. The lamp is also fitted with a stand to hold the colour vision booklet (Fig. L2).
Syn.
Macbeth illuminant C.
See
CIE standard illuminants
;
pseudoisochromatic plates
;
Farnsworth test
.
tungsten-halogen l
.
See
lamp, halogen
.
Millodot: Dictionary of Optometry and Visual Science, 7th edition. © 2009 Butterworth-Heinemann
lamp
(

lamp

)

Illuminating device; source of light.

See also:

light

Medical Dictionary for the Dental Professions © Farlex 2012