moxifloxacin hydrochloride
(redirected from Moxeza)
moxifloxacin hydrochloride
Avelox, Moxeza, Vigamox
Pharmacologic class: Fluoroquinolone
Therapeutic class: Anti-infective
Pregnancy risk category C
FDA Box Warning
• Fluoroquinolones for systemic use are associated with an increased risk of tendinitis and tendon rupture in all ages. This risk is further increased in patients usually over age 60, with concomitant use of corticosteroids, and in kidney, heart, and lung transplant recipients.
• Fluoroquinolones, including Avelox, may exacerbate muscle weakness in patients with myasthenia gravis. Avoid Avelox in patients with known history of myasthenia gravis.
Action
Selectively inhibits DNA synthesis by disrupting DNA replication and transcription and suppressing protein synthesis, causing bacterial cell death
Availability
Injection (premixed): 400 mg/250-ml bag
Ophthalmic solution: 5% (3 ml in 4-ml bottle)
Tablets: 400 mg
Indications and dosages
➣ Acute bacterial sinusitis
Adults: 400 mg P.O. or I.V. q 24 hours for 10 days
➣ Acute bacterial exacerbation of chronic bronchitis
Adults: 400 mg P.O. or I.V. q 24 hours for 5 days
➣ Community-acquired pneumonia
Adults: 400 mg P.O. or I.V. q 24 hours for 7 to 14 days
➣ Uncomplicated skin and skin-structure infections
Adults: 400 mg P.O. or I.V. q 24 hours for 7 days
➣ Bacterial conjunctivitis
Adults: Instill one drop of Vigamox ophthalmic solution into affected eye t.i.d. for 7 days or one drop of Moxeza ophthalmic solution into affected eye b.i.d. for 7 days.
Contraindications
• Hypersensitivity to drug, its components, or other fluoroquinolones
Precautions
Use cautiously in:
• known or suspected CNS disorders that may predispose to seizures or lower seizure threshold, peripheral neuropathy, diarrhea, renal impairment, cirrhosis, bradycardia, acute myocardial ischemia, dialysis
• prolonged QTc interval, hypokalemia, and drugs that prolong QT interval
• history of myasthenia gravis (avoid use)
• elderly patients
• pregnant or breastfeeding patients (safety not established except in post-exposure inhalation anthrax)
• children younger than age 18 (except in post-exposure inhalation anthrax)
• children younger than age 4 months (Moxeza ophthalmic use) or age 1 (Vigamox ophthalmic use).
Administration
• Give premixed I.V. dose over 60 minutes. Avoid bolus or rapid infusion.
• Don't mix with other drugs in same I.V. line.
• Know that although milk or yogurt may impair absorption of P.O. moxifloxacin, drug may be given with other calcium products.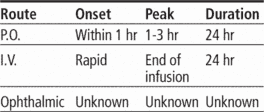 Adverse reactions
CNS: dizziness, drowsiness, headache, confusion, light-headedness, insomnia, agitation, hallucinations, acute psychoses, tremor, seizures
CV: hypertension, vasodilation, tachycardia, prolonged QT interval, arrhythmias
EENT: conjunctivitis; decreased visual acuity; keratitis; eye dryness, discomfort, pain, pruritus, and hyperemia; subconjunctival hemorrhage; tearing; otitis media; pharyngitis; rhinitis (all with ophthalmic solution)
GI: nausea, diarrhea, abdominal pain, pseudomembranous colitis
GU: vaginitis
Hematologic: eosinophilia, thrombocytopenia, leukopenia
Musculoskeletal: joint pain, tendinitis, tendon rupture
Respiratory: increased cough (with ophthalmic solution)
Skin: rash, photosensitivity, phototoxicity, Stevens-Johnson syndrome
Other: altered taste (with ophthalmic solution), phlebitis at I.V. site, superinfection, fever, exacerbation of myasthenia gravis, hypersensitivity reactions including anaphylaxis
Interactions
Drug-drug. Amiodarone, bepridil, disopyramide, erythromycin, pentamidine, phenothiazines, pimozide, procainamide, quinidine, sotalol, tricyclic antidepressants: increased risk of serious adverse cardiovascular reactions
Antacids, bismuth subsalicylate, iron salts, sucralfate, zinc salts: decreased moxifloxacin absorption
Nonsteroidal anti-inflammatory drugs: increased risks of CNS stimulation and seizures
Theophylline: increased theophylline blood level and possible toxicity
Warfarin and its derivatives: enhanced anticoagulant effect
Drug-diagnostic tests. Alanine aminotransferase, alkaline phosphatase, aspartate aminotransferase, bilirubin, lactate dehydrogenase, platelets: increased levels
Drug-food. Concurrent tube feedings, milk, yogurt: impaired absorption of P.O. moxifloxacin
Drug-herbs. Dong quai, St. John's wort: phototoxicity
Fennel: decreased moxifloxacin absorption
Drug-behaviors. Sun exposure: phototoxicity
Patient monitoring
☞ Watch for hypersensitivity reaction (such as anaphylaxis) and other allergic reactions, which may occur after initial dose. Discontinue drug at first sign of rash, jaundice, or other signs or symptoms of hypersensitivity.
• Monitor cardiovascular and neurologic status closely.
☞ Stay alert for tendinitis and Achilles tendon rupture. Discontinue drug if tendon pain or inflammation occurs.
• Monitor CBC and liver function tests.
• Assess GI status. Report signs or symptoms of pseudomembranous colitis. Be aware that if pseudomembranous colitis is suspected or confirmed, ongoing antibiotic use not directed against Clostridium difficile may need to be discontinued.
• Watch closely for superinfection.
• Discontinue drug if peripheral neuropathy or phototoxicity occurs.
• Closely monitor prothrombin time, International Normalized Ratio, or other suitable anticoagulation tests if drug is given concomitantly with warfarin or its derivatives.
Patient teaching
• Advise patient to take tablets once a day with or without food, 4 hours before or 8 hours after antacids, multivitamins, sucralfate, or preparations containing aluminum, magnesium, iron, or zinc.
☞ Tell patient drug may cause serious allergic reactions even several days after therapy begins. Advise him to stop taking drug and report these reactions immediately.
☞ Urge patient to stop taking drug and promptly report tendon pain, diarrhea with blood or pus, and signs and symptoms of superinfection.
• Teach patient how to use eye drops. Caution him to avoid touching applicator tip to eye, finger, or other object.
• Instruct patient being treated for bacterial conjunctivitis not to wear contact lenses.
• Caution patient to avoid driving and other hazardous activities until he knows how drug affects concentration and alertness.
• As appropriate, review all other significant and life-threatening adverse reactions and interactions, especially those related to the drugs, tests, foods, herbs, and behaviors mentioned above.
McGraw-Hill Nurse's Drug Handbook, 7th Ed. Copyright © 2013 by The McGraw-Hill Companies, Inc. All rights reserved