Moro reflex
Also found in:
Dictionary
,
Thesaurus
,
Legal
,
Encyclopedia
,
Wikipedia
.
Moro reflex
[

mo´ro

]

flexion of an infant's thighs and knees, fanning and then clenching of fingers, with arms first thrown outward and then brought together as though embracing something; produced by a sudden stimulus, such as striking the table on either side of the child, and seen normally in the newborn. Called also

embrace reflex

.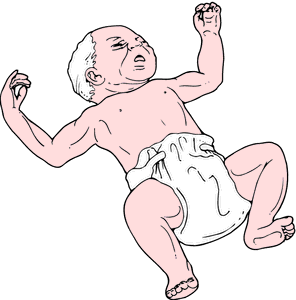 star·tle re·flex
a primitive reflex response observed in the normal newborn but typically suppressed by 3-4 months of age. Any sudden stimulus (for example, a loud noise, a blow to the supporting surface, or being dropped 5-10 cm through space) causes flexion of the hip and knee joints with fanning of the fingers followed by fist clenching and extension of the upper limbs followed by flexion. Synonym(s):
Moro reflex
,
parachute reflex
,
startle reaction
See also:
cochleopalpebral reflex
.
Moro reflex
[môr′ō]
Etymology: Ernst Moro, German pediatrician, 1874-1951
a normal mass reflex in a young infant (up to 3 to 4 months of age) elicited by a sudden loud noise, such as by striking the table next to the child, or raising the head slightly and allowing it to drop. A normal response consists of flexion of the legs, an embracing posture of the arms, and usually a brief cry. Also called
startle reflex
.
Mo·ro re·flex
(

mō'rō rē'fleks

)

Response of infants at birth and for the first 3 months of life to acoustic stimuli characterized by extension and abduction of arms, hands, and fingers.
Moro,
Ernst, German physician, 1874-1951.

Moro reflex - the reflex response of an infant when allowed to drop a short distance through the air or startled by a sudden noise or jolt. Synonym(s): startle reflex