aster
(redirected from Michaelmas daisy)
Also found in:
Dictionary
,
Thesaurus
,
Encyclopedia
,
Wikipedia
.
aster
[

as´ter

]

a structure occurring in dividing cells, composed of microtubules radiating from a centrosome. The two asters are the poles of the spindle apparatus.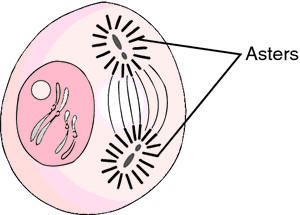 Miller-Keane Encyclopedia and Dictionary of Medicine, Nursing, and Allied Health, Seventh Edition. © 2003 by Saunders, an imprint of Elsevier, Inc. All rights reserved.
as·tro·sphere
(

as'trō-sfēr

),

A set of radiating microtubules extending outward from the cytocentrum and centrosphere of a dividing cell.

[G. astron, star, + sphaira, ball]

Farlex Partner Medical Dictionary © Farlex 2012
aster
(ăs′tər)
n.
Biology A star-shaped structure formed in the cytoplasm of an animal cell during mitosis, having raylike microtubules that surround the centrosome.
The American Heritage® Medical Dictionary Copyright © 2007, 2004 by Houghton Mifflin Company. Published by Houghton Mifflin Company. All rights reserved.
as·tro·sphere
(

as'trō-sfēr

)

A set of radiating microtubules extending outward from the cytocentrum and centrosphere of a dividing cell.

Synonym(s):

aster

,

attraction sphere

.

[G. astron, star, + sphaira, ball]

Medical Dictionary for the Health Professions and Nursing © Farlex 2012
aster
a group of blind-ending SPINDLE MICROTUBULES radiating out from the CENTRIOLES of dividing cells in lower plants and all animals. The aster function is uncertain, but does not seem to be concerned with spindle formation.

Collins Dictionary of Biology, 3rd ed. © W. G. Hale, V. A. Saunders, J. P. Margham 2005