meperidine hydrochloride
(redirected from Meperitab)
Also found in:
Dictionary
,
Thesaurus
,
Encyclopedia
.
meperidine hydrochloride (pethidine hydrochloride)
Demerol, Meperitab
Pharmacologic class: Opioid agonist
Therapeutic class: Analgesic, adjunct to anesthesia
Controlled substance schedule II
Pregnancy risk category C
Action
Binds to and depresses opiate receptors in spinal cord and CNS, altering perception of and response to pain
Availability
Injection: 10 mg/ml, 25 mg/ml, 50 mg/ml, 75 mg/ml, 100 mg/ml
Oral solution: 500 mg/5 ml
Syrup: 50 mg/5 ml
Tablets: 50 mg, 100 mg
Indications and dosages
➣ Moderate to severe pain
Adults: 50 to 150 mg P.O., I.M., or subcutaneously q 3 to 4 hours as needed
Children: 1.1 to 1.8 mg/kg P.O., I.M., or subcutaneously q 3 to 4 hours, not to exceed 100 mg/dose
➣ Preoperative sedation
Adults: 50 to 100 mg I.M. or subcutaneously 30 to 90 minutes before anesthesia
Children: 1 to 2.2 mg/kg I.M. or subcutaneously 30 to 90 minutes before anesthesia. Don't exceed adult dosage.
➣ Support of anesthesia
Adults: Fractional doses (such as 10 mg/ml) by repeated slow I.V. injections or continuous I.V. infusion of a more dilute solution (such as 1 mg/ml). Dosages should be individualized.
➣ Analgesia during labor
Adults: 50 to 100 mg I.M. or subcutaneously when contractions are regular. May repeat q 1 to 3 hours.
Contraindications
• Hypersensitivity to drug or bisulfites (with some injectable products)
• MAO inhibitor use within past 14 days
Precautions
Use cautiously in:
• head trauma; increased intracranial pressure (ICP); severe renal, hepatic, or pulmonary disease; hypothyroidism; adrenal insufficiency; extensive burns; alcoholism; supraventricular tachycardia; seizure disorders
• undiagnosed abdominal pain or prostatic hyperplasia
• elderly or debilitated patients
• pregnant patients (not recommended before labor)
• labor (drug may cause respiratory depression in neonate)
• breastfeeding patients
• children.
Administration
• Give I.M. injection slowly into large muscle. Preferably, use diluted solution.
• Give oral solution or syrup in a half-glass of water to avoid topical anesthetic effect on mucous membranes.
• Be aware that drug is compatible with 5% dextrose and lactated Ringer's solution, dextrose-saline solution combinations, and 2.5%, 5%, or 10% dextrose in water.
☞ Know that drug is not compatible with soluble barbiturates, aminophylline, heparin, morphine sulfate, methicillin, phenytoin, sodium bicarbonate, iodide, sulfadiazine, or sulfisoxazole.
• Don't give for chronic pain control, because of potential toxicity and dependence.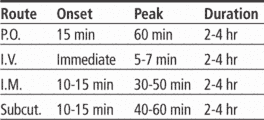 Adverse reactions
CNS: confusion, sedation, dysphoria, euphoria, floating feeling, hallucinations, headache, unusual dreams, seizures
CV: hypotension, bradycardia, cardiac arrest, shock
EENT: blurred vision, diplopia, miosis
GI: nausea, vomiting, constipation, ileus, biliary tract spasms
GU: urinary retention
Respiratory: respiratory depression, respiratory arrest
Skin: flushing, sweating, induration
Other: pain at injection site, local irritation, physical or psychological drug dependence, drug tolerance
Interactions
Drug-drug. Antihistamines, sedative-hypnotics: additive CNS depression
Barbiturates, cimetidine, protease inhibitor antiretrovirals: increased respiratory and CNS depression
Chlorpromazine, thioridazine: increased risk of meperidine toxicity
MAO inhibitors, procarbazine: potentially fatal reaction
Opioid agonist-antagonists: precipitation of opioid withdrawal in physically dependent patients
Phenytoin: increased meperidine metabolism and decreased effects
Drug-diagnostic tests. Amylase, lipase: increased levels
Drug-herbs. Chamomile, hops, kava, skullcap, valerian: increased CNS depression
Drug-behaviors. Alcohol use: increased CNS depression
Patient monitoring
☞ Monitor vital signs. Don't give drug if patient has significant respiratory or CNS depression.
• Reassess patient's pain level after administration.
☞ Watch for seizures, agitation, irritability, nervousness, tremors, twitches, and myoclonus in patients at risk for normeperidine accumulation (such as those with renal or hepatic impairment).
☞ Use with extreme caution in patients with head injury. Drug may increase ICP and cause adverse reactions that obscure clinical course.
• Closely monitor patients with acute abdominal pain. Drug may obscure diagnosis and clinical course of GI condition.
• Evaluate bowel and bladder function.
• With long-term or repeated use, watch for psychological and physical drug dependence and tolerance.
☞ With pediatric patients, stay alert for increased risk of seizures.
Patient teaching
• Tell patient using oral solution or syrup to take drug with a half-glass of water to minimize local anesthetic effect.
• Caution patient to avoid driving and other hazardous activities, because drug may cause dizziness or drowsiness.
• Advise patient to avoid alcohol.
• Instruct ambulatory patient to change position slowly to avoid orthostatic hypotension.
• Tell female patient to inform prescriber if she is pregnant or breastfeeding.
• As appropriate, review all other significant and life-threatening adverse reactions and interactions, especially those related to the drugs, tests, herbs, and behaviors mentioned above.
McGraw-Hill Nurse's Drug Handbook, 7th Ed. Copyright © 2013 by The McGraw-Hill Companies, Inc. All rights reserved
me·per·i·dine hy·dro·chlor·ide
(

mĕ-per'i-dēn hī'drō-klōr'īd

),

A widely used narcotic analgesic.

Farlex Partner Medical Dictionary © Farlex 2012
me·per·i·dine hy·dro·chlor·ide
(

mĕ-per'i-dēn hī'drŏ-klōr'īd

)

A widely used narcotic analgesic.

Medical Dictionary for the Health Professions and Nursing © Farlex 2012
me·per·i·dine hy·dro·chlor·ide
(

mĕ-per'i-dēn hī'drŏ-klōr'īd

)

A widely used narcotic analgesic.

Medical Dictionary for the Dental Professions © Farlex 2012