Mg
(redirected from MG (disambiguation))
Also found in:
Dictionary
,
Thesaurus
,
Financial
,
Encyclopedia
.
magnesium
(Mg) [

mag-ne´ze-um

]

a chemical element, atomic number 12, atomic weight 24.312. (See Appendix 6.) Its salts are essential in nutrition, being required for the activity of many enzymes, especially those concerned with

oxidative

phosphorylation

. It is found in the intra- and extracellular fluids and is excreted in urine and feces. The normal serum level is approximately 2 mEq/L. Magnesium deficiency causes irritability of the nervous system with tetany, vasodilation, convulsions, tremors, depression, and psychotic behavior.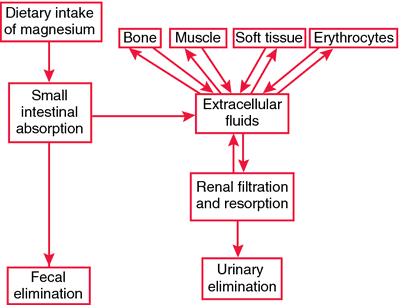 magnesium citrate
a saline
laxative
used for bowel evacuation before diagnostic procedures or surgery of the colon; administered orally.
magnesium silicate
MgSiO
3
, a silicate salt of magnesium; the most common hydrated forms found in nature are
asbestos
and
talc
.
---
milligram
(mg) [

mil´ĭ-gram

]

one thousandth (10

−3

) of a

gram

.

Miller-Keane Encyclopedia and Dictionary of Medicine, Nursing, and Allied Health, Seventh Edition. © 2003 by Saunders, an imprint of Elsevier, Inc. All rights reserved.
Mg
---
mg
Farlex Partner Medical Dictionary © Farlex 2012
MG
Abbreviation for:
geometric mean (statistics)
mammary gland
Marcus Gunn pupil
membranous glomerulopathy (see there)
menopausal gonadotropin
mesiogingival (dentistry)
methyleneglutamine
methyl glucoside
methyl green
Michaelis-Gutmann bodies
milligram (see there)
monoglyceride
muscle group
myasthenia gravis
myoglobin (see there)

Segen's Medical Dictionary. © 2012 Farlex, Inc. All rights reserved.
MG
1. Marcus Gunn pupil, see there.
2. Membranous glomerulopathy, see there.
---
mg
Milligram, see there.

McGraw-Hill Concise Dictionary of Modern Medicine. © 2002 by The McGraw-Hill Companies, Inc.
Mg
---
mg
Abbreviation for milligram.
Medical Dictionary for the Health Professions and Nursing © Farlex 2012
Patient discussion about Mg
Q. Is 700 mg of seroquel too much? My husband has prescriptions for seroquel. He is to take 600 mg at bedtime. He becomes lathargic. Many times he takes and extra 100 mg of seroquel and goes into a stuper like condition. What can happen?
A. Somnolence is a well-know side effect of Seroquel, so it's not surprising. In addition, the dosage you specified seems within normal range. However, dosage may need personal adjustment, and since making this through the net is neither successful nor responsible, I'd suggest consulting a professional (e.g. his doctor) and discuss these issues with him or her.
More discussions about Mg
This content is provided by iMedix and is subject to iMedix Terms. The Questions and Answers are not endorsed or recommended and are made available by patients, not doctors.