labium minus
Also found in:
Dictionary
,
Thesaurus
,
Encyclopedia
.
labium
[

la´be-um

] (pl. la´bia) (L.)

lip

. adj.,

adj

la´bial.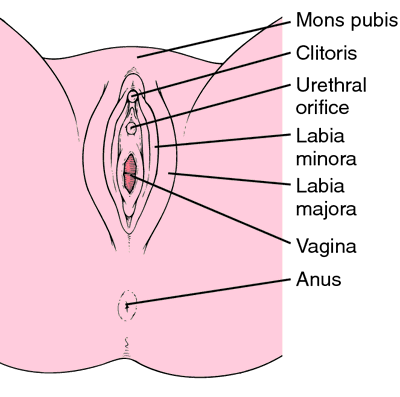 labium ma´jus (pl. la´bia majo´ra), an elongated fold in the female, one on either side of the rima pudendi.
labium mi´nus (pl. la´bia mino´ra), the small fold of skin on either side, between the labia majora and the opening of the vagina.
la´bia o´ris the lips of the mouth.
Miller-Keane Encyclopedia and Dictionary of Medicine, Nursing, and Allied Health, Seventh Edition. © 2003 by Saunders, an imprint of Elsevier, Inc. All rights reserved.
la·bi·um mi·'nus
[TA] Avoid the incorrect phrase

labium minor

.

One of two narrow longitudinal folds of skin enclosed in the pudendal cleft within the labia majora; posteriorly, they gradually merge into the labia majora and join to form the frenulum labiorum pudendi of labia minora (fourchette); anteriorly, each labium divides into two portions that unite with those of the opposite side in front of the glans of clitoris to form the prepuce of clitoris.

Farlex Partner Medical Dictionary © Farlex 2012
la·bi·um mi·nus
, pl. labia minora (

lā'bē-ŭm mī'nŭs, lā'bē-ă mi-nōră

) [TA]

One of two narrow longitudinal folds of mucous membrane enclosed in the pudendal cleft within the labia majora; posteriorly, they gradually merge into the labia majora and join to form the frenulum of the labia minora; anteriorly, each labium divides into two portions that unite with those of the opposite side in front of the glans clitoridis to form the prepuce.

Medical Dictionary for the Health Professions and Nursing © Farlex 2012