Kernig's sign
Also found in:
Dictionary
,
Thesaurus
,
Legal
,
Encyclopedia
,
Wikipedia
.
Kernig's sign
[

ker´nigz

]

in the supine position the patient can easily and completely extend the leg; in the sitting posture or when lying with the thigh flexed upon the abdomen the leg cannot be completely extended; it is a sign of meningitis.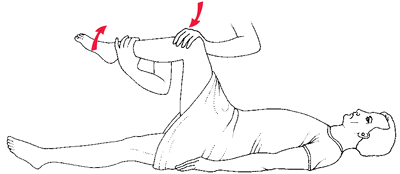 Kernig's sign
[ker′niks]
Etymology: Vladimir M. Kernig, Russian physician, 1840-1917
a diagnostic sign for meningitis marked by a loss of the ability of a supine patient to completely straighten the leg when it is fully flexed at the knee and hip. Pain in the lower back and resistance to straightening the leg constitutes a positive Kernig's sign. Usually the patient can extend the leg completely when the thigh is not flexed on the abdomen. Compare
Brudzinski's sign
.
Kernig's sign
An indication of irritation of the membranes surrounding the brain and spinal cord (the meninges) as in meningitis. Attempts to bend the hip with the knee straight (straight leg raising) cause pain and are strongly opposed by irritative spasm in the hamstring muscles that extend the hip and bend the knee. (Vladimir Michailovich Kernig, 1840–1917, Russian physician).