wryneck
(redirected from Jynx (bird))
Also found in:
Dictionary
,
Thesaurus
,
Encyclopedia
.
torticollis
[

tor″tĭ-kol´is

]

a contracted state of the cervical muscles, producing torsion of the neck; the deformity may be congenital, hysterical, or secondary to conditions such as pressure on the accessory nerve, inflammation of glands in the neck, or muscle spasm. Called also

wryneck

.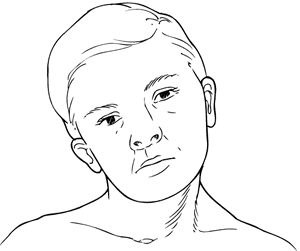 tor·ti·col·lis
(

tōr'ti-kol'is

), [MIM*189600]

A contraction, or shortening, of the muscles of the neck, chiefly those supplied by the accessory nerve (NXI); the head is drawn to one side and usually rotated so that the chin points to the other side.

See also:

dystonia

.

[L. tortus, twisted, + collum, neck]
wryneck
(rī′nĕk′)
n.
b. A person with torticollis.
A focal dystonia consisting of one-sided contracture with palpable induration of the sternocleidomastoid muscle, causing the chin to turn towards the opposite side and the head to rotate towards the lesion; wryneck is accompanied by facial muscle dysplasia
Aetiology Congenital form—unclear—possibly due to in utero or peripartum trauma to venous drainage, causing asymmetric development of the face and skull; the later it is recognised, the more likely it will require surgery
wryneck
Congenital torticollis, torticollis A focal dystonia consisting of one-sided contracture awith palpable induration of the sternocleidomastoid muscle, causing the chin to turn towards the opposite side and the head to rotate towards the lesion; WN is accompanied by facial muscle dysplasia Etiology Congenital form– unclear–possibly due to in utero or peripartum trauma to venous drainage, causing asymmetric development of the face and skull; the later WN is recognized, the more likely surgical intervention is required