Jackson-Pratt drain
(redirected from JP drain)
drain
[

drān

]

1. to withdraw liquid gradually.

2.

any device by which a channel or open area may be established for exit of fluids or purulent material from a cavity, wound, or infected area. See also

wound healing

.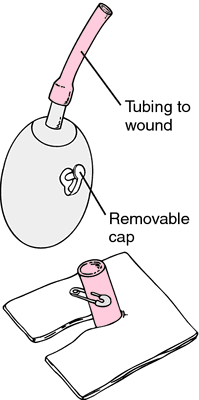 cigarette drain
a drain made by drawing a small strip of gauze or surgical sponge into a rubber tube; called also
Penrose drain
.
Jackson-Pratt drain a closed wound drainage system comprising a drainage tube and collection vessel.
Penrose drain
2. a thin rubber tube that facilitates drainage from a closed or partially closed area.
sump drain a double-lumen drain that allows air entering the drained area through the smaller lumen to displace fluid into the larger lumen.
sump-Penrose drain a triple-lumen drain formed by placing a double-lumen tube within a Penrose drain.
Miller-Keane Encyclopedia and Dictionary of Medicine, Nursing, and Allied Health, Seventh Edition. © 2003 by Saunders, an imprint of Elsevier, Inc. All rights reserved.
Jackson-Pratt drain
(jak′sŏn-prat′)

A soft tube placed in an operative site to drain blood and inflammatory fluid following surgery. The tube is connected to a small, compressed, plastic bulb. The compression creates suction; the bulb expands as it fills. The collected liquid is emptied and measured when the bulb is about 60% filled, and the bulb is recompressed. The drains are removed when only minimal drainage is observed. Fluid in a surgical wound interferes with healing, can place pressure on suture sites, and increases the risk of infection.

Medical Dictionary, © 2009 Farlex and Partners