Infergen
interferon alfacon-1
Infergen
Pharmacologic class: Biological response modifier
Therapeutic class: Antiviral
Pregnancy risk category C (monotherapy), X (with ribavirin)
FDA Box Warning
• Drug may cause or worsen fatal or life-threatening neuropsychiatric, autoimmune, ischemic, and infectious disorders. Monitor patient closely with periodic clinical and laboratory evaluations. Discontinue drug in patients with persistently severe or worsening signs or symptoms of these conditions. In many cases, these disorders resolve after withdrawal.
• If drug is used with ribavirin, birth defects or death of the fetus may occur. Female patients and female partners of male patients must take extreme care to avoid pregnancy. Ribavirin also causes hemolytic anemia, which may result in a worsening of cardiac disease. Ribavirin is genotoxic and mutagenic and should be considered a potential carcinogen.
Action
Binds to membrane receptors on viral cells, inducing protein synthesis, inhibiting viral replication, and suppressing cell proliferation. Increases phagocytosis, enhances expression of human leukocyte antigen, and augments lymphocyte cytotoxicity.
Availability
Injection: 9-mcg/0.3-ml vials, 15-mcg/0.5-ml vials
Indications and dosages
➣ Chronic hepatitis C
Adults: Initially as monotherapy, 9 mcg subcutaneously as a single dose three times weekly for 24 weeks; for patients who tolerated previous interferon therapy and didn't respond or relapsed following its discontinuation, 15 mcg subcutaneously as a single injection three times weekly for up to 48 weeks. For combination therapy, 15 mcg subcutaneously daily as a single injection with weight-based ribavirin at 1,000 to 1,200 mg (less than 75 kg to 75 kg or more, respectively) P.O. daily in two divided doses for up to 48 weeks.
Dosage adjustment
• Hematologic toxicities
• Patients with depression
• Serious adverse reactions
Off-label uses
• Hairy cell leukemia
Contraindications
• Hypersensitivity to drug, its components, or ribavirin
• Hepatic decompensation (Child-Pugh score above 6), autoimmune hepatitis
• Patients with creatinine clearance below 50 ml/minute (combination therapy with ribavirin)
• Hemoglobinopathies, such as tha-lassemia major and sickle cell anemia (combination therapy with ribavirin)
• Pregnant patients and men whose female partners are pregnant (combination therapy with ribavirin)
Precautions
Use cautiously in:
• cardiac disease, severe psychiatric disorders, ischemic and hemorrhagic cerebrovascular events, pulmonary disorders, chronic hepatitis C infection with cirrhosis, renal insufficiency, colitis, pancreatitis, ophthalmologic disorders, endocrine disorders, any abnormal test values
• history of significant or unstable cardiac disease (avoid use)
• other autoimmune disorders
• abnormally low peripheral blood cell counts or concurrent use of agents known to cause myelosuppression
• combination therapy with ribavirin in patients with low baseline neutrophil count (less than 1,500/mm3)
• transplant patients or other chronically immunosuppressed patients
• combination of interferon alfacon-1 and ribavirin in treatment-naïve patients or in patients co-infected with hepatitis B virus or HIV-1 (safety and efficacy not established)
• breastfeeding patients
• children age 18 and younger.
Administration
• Give by subcutaneous route only.
• Give antiemetics for nausea and vomiting, as needed and prescribed.

• Be aware that female patients must have a negative pregnancy test before starting combination therapy with ribavirin.
• Be aware that patients who have preexisting cardiac abnormalities should have an ECG before starting treatment with interferon alfacon-1 and ribavirin combination.
• Be aware that laboratory tests are recommended for all patients before starting therapy. Entrance criteria that may be considered as a guideline to acceptable baseline values for initiation of treatment are shown below: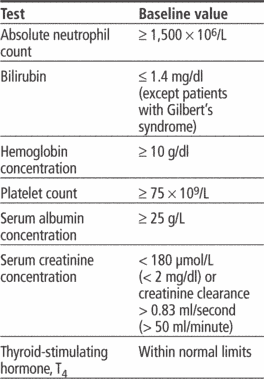 Adverse reactions
CNS: dizziness, confusion, rigors, headache, emotional lability, hypoesthesia, paresthesia, lethargy, depression, difficulty thinking or concentrating, insomnia, anxiety, fatigue, amnesia, nervousness, drowsiness, asthenia, malaise, suicidal ideation, stroke
CV: chest pain, hypertension, palpitations, hypotension, tachycardia, angina pectoris, cardiomyopathy, myocardial infarction, arrhythmias
EENT: visual disturbances, stye, retinopathy including macular edema, retinal artery or vein thrombosis, retinal hemorrhages and cotton wool spots, optic neuritis, papilledema, retinal detachment, hearing disorders, nasal congestion, rhinitis, sinusitis, pharyngitis
GI: nausea, vomiting, diarrhea, constipation, abdominal pain, flatulence, eructation, stomatitis, dry mouth, anorexia, intestinal obstruction, hemorrhagic and ischemic colitis, pancreatitis
GU: impaired fertility in women, gynecomastia, erectile dysfunction, renal failure
Hematologic: anemia, leukopenia, thrombocytopenia, neutropenia, severe cytopenias, hemolytic anemia
Hepatic: hepatic decompensation
Metabolic: hyperglycemia, diabetes mellitus, hypothyroidism, hyperthyroidism
Musculoskeletal: joint pain, back pain, limb pain, neck pain, myalgia
Respiratory: cough, dyspnea, pulmonary infiltrates, pneumonia, bronchiolitis obliterans, interstitial pneumonitis, pulmonary hypertension, sarcoidosis
Skin: rash, dryness, pruritus, flushing, alopecia, candidiasis, dermatitis, diaphoresis
Other: gingivitis, flulike symptoms, edema, weight loss, fever, body pain, injection-site erythema, infections, hypersensitivity including urticaria, autoimmune disorders, angioedema, bronchoconstriction, anaphylaxis
Interactions
Drug-diagnostic tests. Alkaline phosphatase, aspartate aminotransferase, bilirubin, creatinine, lactate dehydrogenase, neutralizing antibodies, serum creatinine, thyroid-stimulating hormone, triglycerides, uric acid: increased values
Granulocytes, hematocrit, hemoglobin, platelets, serum albumin, thyroxine white blood cells: decreased values
Patient monitoring
☞ Before and regularly during therapy, assess CBC with white cell differential and hepatitis C virus antibodies.
• Assess fluid intake and output. Keep patient well hydrated.
☞ Stay alert for depression, mental status changes, psychosis, and suicidal ideation (especially in patients with history of mental illness).
• Assess for bleeding and bruising.
• Institute infection-control measures. Monitor for signs and symptoms of infection.
• Watch for flulike symptoms.
☞ Monitor patient for hypersensitivity reactions; discontinue drug immediately and institute appropriate treatment if severe signs and symptoms (such as urticaria, angioedema, bronchoconstriction, or anaphylaxis) occur.
☞ Monitor patient for signs and symptoms of pancreatitis. Suspend treatment if signs and symptoms occur; discontinue treatment in patients diagnosed with pancreatitis.
☞ Closely watch for and discontinue treatment if patient develops persistent or unexplained pulmonary infiltrates or pulmonary function impairment. Be aware that respiratory failure has been observed with interferon rechallenge.
☞ Be aware that patients with chronic hepatitis C with cirrhosis may be at risk for hepatic decompensation when treated with this drug. Closely monitor hepatic function during treatment. Treatment should be immediately discontinued if signs and symptoms of hepatic decompensation, such as jaundice, ascites, coagulopathy, or decreased serum albumin, are observed.
• Monitor renal function (particularly increases in serum creatinine level) during therapy.
☞ Be aware that hemorrhagic and ischemic colitis, sometimes fatal, has been observed within 12 weeks of initiation of therapy. Discontinue drug immediately in patients who develop signs and symptoms of colitis.
☞ Be aware that development or exacerbation of autoimmune disorders (such as autoimmune thrombocytopenia, idiopathic thrombocytopenic purpura, psoriasis, rheumatoid arthritis, thyroiditis, interstitial nephritis, and systemic lupus erythematosus have occurred in patients receiving interferon alpha therapies.
• Monitor patients for vision impairment; be aware that patient who develop ocular signs and symptoms should receive a prompt and complete eye examination. Discontinue therapy in patients who develop new or worsening ophthalmologic disorders.
• For patients receiving combination therapy, discontinue ribavirin in patients who temporarily or permanently discontinue interferon alfacon-1.
Patient teaching
• Teach patient or caregiver how to administer drug subcutaneously, rotate injection sites, and track dosing schedule and injection sites on calendar.
• Advise patient to avoid sources of potential infection, such as crowds and people with known infections.
• Caution patient to avoid driving and other hazardous activities until he knows how drug affects concentration, alertness, and vision.
• Tell female patient that drug is linked to fetal abnormalities. Advise her not to get pregnant during therapy, and to use barrier contraception.
☞ Instruct patient to immediately report signs and symptoms of infection, unusual bleeding or bruising, mental status changes, dizziness, palpitations, vision impairment, diarrhea, abdominal pain, respiratory signs and symptoms, rash, hives, or new or worsening symptoms.
• Tell patient he'll need regular follow-up examinations and blood tests to gauge drug effects.
• As appropriate, review all other significant and life-threatening adverse reactions and interactions, especially those related to the drugs and tests mentioned above.
McGraw-Hill Nurse's Drug Handbook, 7th Ed. Copyright © 2013 by The McGraw-Hill Companies, Inc. All rights reserved
interferon alfacon-1
(in-ter-
feer
-on
al
-fa-kon) ,
Infergen
(trade name)
Classification
Therapeutic:
immune modifiers
Pharmacologic:
interferons
Pregnancy Category: C
Indications
Treatment of chronic hepatitis C infection (HCV) (as monotherapy or in combination with ribavirin in patients who failed to respond to treatment with a pegylated interferon and ribavirin) (monotherapy not recommended unless patient is unable to take ribavirin).
Action
Antiproliferative, antiviral, and immunomodulatory effects.
Therapeutic effects
Improvement in liver function studies, liver histology, and decreased hepatitis C viral RNA concentration.
Pharmacokinetics
Absorption: Well absorbed following subcut administration.
Distribution: Unknown.
Metabolism and Excretion: Unknown.
Half-life: Up to 7 hours.
Time/action profile
| | | | |
| --- | --- | --- | --- |
| ROUTE | ONSET | PEAK | DURATION |
| Subcut | unknown | unknown | unknown |
Contraindications/Precautions
Contraindicated in: Hypersensitivity to alfa interferons or Escherichia coli–derived products; Hepatic decompensation (Child-Pugh Class B or C); Autoimmune hepatitis.
Use Cautiously in: History of severe psychiatric illness; Cardiovascular disease; Renal impairment; Underlying myelosuppression; Endocrine disorders; Autoimmune disorders; Obstetric / Lactation / Pediatric: Safety not established.
Exercise Extreme Caution in: History of depression/suicide attempt.
Adverse Reactions/Side Effects
Central nervous system
suicidal thoughts (life-threatening)
anxiety (most frequent)
depression (most frequent)
dizziness (most frequent)
insomnia (most frequent)
nervousness (most frequent)
agitation
aggressive behavior
malaise
psychosis
Cardiovascular
myocardial infarction (life-threatening)
angina
arrhythmia
heart failure
hypotension
tachycardia
Ear, Eye, Nose, Throat
loss of visual acuity or visual field
optic neuritis
papilledema
retinopathy
tinnitus
Gastrointestinal
hemorrhagic/ischemic colitis (life-threatening)
pancreatitis (life-threatening)
abdominal pain (most frequent)
anorexia (most frequent)
diarrhea (most frequent)
dyspepsia (most frequent)
vomiting (most frequent)
constipation
dry mouth
flatulence
Respiratory
pulmonary hypertension (life-threatening)
sarcoidosis (life-threatening)
dyspnea
interstitial pneumonitis
pneumonia
Dermatologic
Endocrinologic
hyperglycemia
hypothyroidism
Genitourinary
renal failure
↑ serum creatinine
Hematologic
anemia (life-threatening)
leukopenia (life-threatening)
thrombocytopenia (life-threatening)
Metabolic
Local
injection site reactions (most frequent)
Musculoskeletal
body pain (most frequent)
Neurologic
Miscellaneous
allergic reactions including anaphylaxis (life-threatening)
flu-like symptoms (headache, fatigue, fever) (most frequent)
Interactions
Drug-Drug interaction
Concurrent use of
antineoplastics
or
agents known to cause myelosuppression
↑ the risk of myelosuppression.May alter the effects of other
drugs sharing common liver metabolic pathways
.Avoid concomitant use with immunomodulating products, such as astragalus, echinacea, and melatonin.
Route/Dosage
Subcutaneous (Adults) Monotherapy (initial treatment)-9 mcg 3 times weekly for 24 wk; Monotherapy (did not respond to or relapsed following discontinuation of previous interferon therapy)-15 mcg 3 times weekly for up to 48 wk; Combination therapy with ribavirin-15 mcg daily for up to 48 wk.
Availability
Solution for injection: 9 mcg/0.3 mL, 15 mcg/0.5 mL
Nursing implications
Nursing assessment
Assess patient for symptoms of hepatitis C prior to and periodically during therapy.
Assess patient mood periodically throughout and for 6 mo following therapy. Depression, suicidal ideation, and other severe psychiatric disorders may require discontinuation of interferon alfacon-1.
Ophthalmologic exams should be performed prior to therapy in patients with hypertension or diabetes. Ophthalmologic exams should also be performed in any patient complaining of loss of visual acuity or visual field.
Monitor patients with a history of cardiovascular or pulmonary disorders closely during therapy. If condition worsens or pulmonary infiltrates or impairment occur, discontinue therapy.
Lab Test Considerations: Monitor liver function studies prior to and periodically during therapy.

Monitor platelet count, hemoglobin, hematocrit, absolute neutrophil count (ANC), serum creatinine, bilirubin, and albumin concentrations, and TSH and T4 prior to and at Weeks 2 and 4 after initiation of therapy and periodically during therapy. Any abnormal lab values should also be monitored periodically following therapy. Discontinue therapy if ANC <0.5 × 109/L or if platelet count is <25 × 109/L. Filgrastim (C-GSF) may be given concurrently to prevent transient myelosuppression.
Potential Nursing Diagnoses
Risk for infection (Indications)
Deficient knowledge (Patient/Family Teaching)
Implementation
Subcutaneous: Allow solution to come to room temperature prior to administration. Administer undiluted. Avoid vigorous shaking. Store solution in refrigerator. Solution is clear and colorless; do not administer solutions that are discolored or contain particulate matter.

Allow at least 48 hr between doses.
Patient/Family Teaching
Advise patient to notify health care professional if flu-like symptoms (headache, fever, fatigue, rigors, myalgia, sweating, arthralgia) or depression occurs. Dose reduction or discontinuation may be required if severe reaction occurs.
Advise patient and family to notify health care professional if thoughts about suicide or dying, attempts to commit suicide; new or worse depression; new or worse anxiety; feeling very agitated or restless; panic attacks; trouble sleeping; new or worse irritability; acting aggressive; being angry or violent; acting on dangerous impulses; an extreme increase in activity and talking; other unusual changes in behavior or mood occur.
Home Care Issues: Instruct patient in correct technique for self-administration and proper disposal of equipment. Provide a puncture-proof container for disposal of needles.
Evaluation/Desired Outcomes
Improvement in liver function studies, liver histology, and decreased hepatitis C viral RNA concentration. Therapy is usually continued for 24 wk.
Drug Guide, © 2015 Farlex and Partners
Alferon
A purified human interferon (IFN), IFN-alfa-n3, which has been used to treat various cancers (leukaemia, melanoma, Kaposi's sarcoma) and viral infections, including genital warts, hepatitis B and hepatitis C.

Adverse effects
Injection site reactions, diarrhoea, upset stomach, loss of appetite, dry mouth, nausea, flu-like symptoms, vomiting, and occasionally hair loss.

Segen's Medical Dictionary. © 2012 Farlex, Inc. All rights reserved.
Infergen®
Interferon alfacon-1 Immunology A recombinant IFN-alpha in clinical use for managing HCV infection Business Wire 7/10/97

McGraw-Hill Concise Dictionary of Modern Medicine. © 2002 by The McGraw-Hill Companies, Inc.