escutcheon
(redirected from Inescutcheon)
Also found in:
Dictionary
,
Thesaurus
,
Encyclopedia
,
Wikipedia
.
escutcheon
[

es-kuch´un

]

1. a shield or something shaped like a shield.

2.

the shieldlike pattern of distribution of the pubic hair.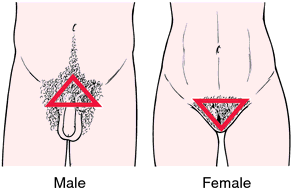 Miller-Keane Encyclopedia and Dictionary of Medicine, Nursing, and Allied Health, Seventh Edition. © 2003 by Saunders, an imprint of Elsevier, Inc. All rights reserved.
escutcheon
(

es-kŭtch'ŏn

),

Pattern of distribution of pubic hair.

[M.E., fr. Norman Fr. esochon, fr. L.L., scutio, fr. L. scutum, shield]

Farlex Partner Medical Dictionary © Farlex 2012
A patch of pubic hair
The normal female escutcheon is a triangle pointing downward, sharply cut off at the level of the pubic symphysis; the male escutcheon is diamond-shaped with both downward and upward angles; a male pattern in a woman may indicate pathological excess of androgen, or be a familial trait without significance

Segen's Medical Dictionary. © 2012 Farlex, Inc. All rights reserved.