IC
(redirected from Ic (pronoun))
Also found in:
Dictionary
,
Thesaurus
,
Financial
,
Encyclopedia
.
capacity
[

kah-pas´ĭ-te

]

the power to hold, retain, or contain, or the ability to absorb; usually expressed numerically as the measure of such ability.

closing capacity

(CC) the volume of gas in the lungs at the time of airway closure, the sum of the closing volume and the

residual volume

. See also

closing volume

.

decreased intracranial adaptive capacity

a

nursing diagnosis

accepted by the North American Nursing Diagnosis Association, defined as the state in which intracranial fluid dynamic mechanisms that normally compensate for increases in intracranial volumes are compromised, resulting in repeated disproportionate increases in

intracranial pressure

in response to a variety of noxious and nonnoxious stimuli.

forced vital capacity

the maximal volume of gas that can be exhaled from full inhalation by exhaling as forcefully and rapidly as possible. See also

pulmonary function tests

.

functional residual capacity the amount of gas remaining at the end of normal quiet respiration.

heat capacity the amount of heat required to raise the temperature of a specific quantity of a substance by one degree Celsius.

inspiratory capacity the volume of gas that can be taken into the lungs in a full inhalation, starting from the resting inspiratory position; equal to the tidal volume plus the inspiratory reserve volume.

total lung capacity

the amount of gas contained in the lung at the end of a maximal inhalation.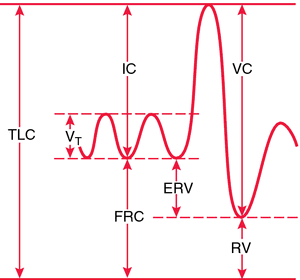 virus neutralizing capacity the ability of a serum to inhibit the infectivity of a virus.
Miller-Keane Encyclopedia and Dictionary of Medicine, Nursing, and Allied Health, Seventh Edition. © 2003 by Saunders, an imprint of Elsevier, Inc. All rights reserved.
IC
abbr.
1. integrated circuit
2. intensive care
The American Heritage® Medical Dictionary Copyright © 2007, 2004 by Houghton Mifflin Company. Published by Houghton Mifflin Company. All rights reserved.
IC
Abbreviation for:
ichthyosis
ichthyosis congenita
idiopathic constipation
immune competent
immune complex
immunoconjugate
immunochromatography
immunocytochemistry
impedance cardiography
imprint cytology
imprinting centre
incompetent cervix
indeterminate colitis
indirect calorimetry
individual counselling
infantile colic
infection control
infectious colitis
inferior cardiac
inferior collicular
inferior colliculus
infiltrating carcinoma
inflammatory cells
inflammatory cytokines
Information Commissioner 
informed consent
infusion chemotherapy
inhaled corticosteroids
inorganic carbon
inner canthal
inner canthus
inner cortex
inspiratory capacity
institutional care
instrument calibration
insular carcinoma
insular cortex
intensive care
intensive chemotherapy
inter cibum (between meals)
intermediate care
intermittent catheterisation
intermittent claudication
internal capsule
internal cardioversion
internal carotid
internal conversion
interstitial cell
interstitial cystitis
interventional cardiology
intracanalicular
intracardiac
intracerebellar
intracerebral
intracranial
intracutaneous
intraoperative cholangiography
intraoperative cytology
intravascular coagulation
invasive cancer
invasive candidiasis
invasive carcinoma
ionisation chamber
ionised calcium
irritable colon
ischaemic cardiopathy
ischaemic colitis
ischiocavernosus
islet cells
isometric contraction
isovolumic contraction

Segen's Medical Dictionary. © 2012 Farlex, Inc. All rights reserved.
Vaughan Williams classification
Cardiology The system by EM Vaughan Williams, used to categorize effects of antiarrhythmics by class. See Antiarrhythmic drugs. Cf Sicilian Gambit.

Vaughan Williams Classification of Antiarrhythmic Drugs

Class I Sodium-channel blockers

IA Moderately slow conduction, moderately prolonged duration of action potential–active in atria, ventricles; most cardiotoxic group

Examples Quinidine, procainamide, diisopyramide

IB Minimally slowed conduction, shortened duration of action potential–active in atria; greatest potential for proarrhythmias

Examples Lidocaine, mexiletine, tocainamide, phenytoin

IC Markedly slowed conduction, minimally duration of action potential–active in atria, ventricles; most effective group

Examples Flecainide, encainide, propafenone, moricizine

Class II Beta blockers–active in AV nodes, ventricles; virtually no proarrhythmic effect

Class III Potassium-channel blockers; prolonged duration of action potential

Examples Amiodarone, bretylium, sotalol, ibutilide

Class IV Calcium-channel blockers–active in AV nodes; virtually no proarrhythmic effect

McGraw-Hill Concise Dictionary of Modern Medicine. © 2002 by The McGraw-Hill Companies, Inc.
IC
Abbreviation for intracardiac.
Medical Dictionary for the Health Professions and Nursing © Farlex 2012
IC
Abbrev. for Intensive Care.

Collins Dictionary of Medicine © Robert M. Youngson 2004, 2005